Discover more from Longevity Marketcap Newsletter
Investing in the Longevity Biotechnology Revolution. By Nathan Cheng + Longevity List.
Over 4,000 subscribers
#001: Longevity Investing Market Pulse
Big moves in longevity stocks, market correlations, COVID plays, IPOs ...
What happened last week…
Big moves in: Unity Technology (UBX), resTORbio (TORC), CohBar (CWBR), and AgeX (AGE)

resTORbio's (TORC) investor lawsuit

Longevity Fund-backed company ALX Oncology IPOs and opens +92% on first day of trading
What to watch this week…
AstraZeneca releases the results of its SARS-CoV-2 vaccine Phase 1 clinical trial on Monday.

When will Unity Biotechnology announce trial results?

Biotech vs SP500 correlation continuation or divergence? Is biotech "defensive" now?
Trading Telemetry and Technical Analysis
CohBar (CWBR)

Unity Biotechnology (UBX)
---
Big Moves in UBX, CWBR, TORC, AGE
Unity Biotechnology (UBX), CohBar (CWBR), resTORbio (TORC), and AgeX Therapeutics (AGE) market themselves as companies that target aging. I consider them as "pure aging play" longevity companies in that respect. All four had moderate gains over the past week.
Unity Biotechnology: UBX (+16.5%)

CohBar: CWBR (+14%)

resTORbio: TORC (+22%)

AgeX Therapeutics: AGE (4.3%)
The biotech sector (XBI, equal-weighted biotech ETF ) was up +3.32% over the same period.
resTORbio's Investor Lawsuit
resTORbio saw most of its weekly gain occur last Friday, as the stock surged +20% on the day. The price action came on the news of an investor lawsuit against resTORbio's management who were planning on undertaking a merger with Adicet Bio (a company that does T cell therapy for cancer). The proposed merger would have resulted in a conversion of Adicet Bio's stock into resTORbio company stock and thus a dilution of the shares of current resTORbio shareholders.
resTORbio develops drugs that inhibit the target of rapamycin complex 1 (TORC1) pathway, the same pathway that is inhibited during caloric restriction — a proven method of life extension across many model organisms. Many biohacking longevity enthusiasts take rapamycin off-label in the belief that it will extend their lifespans. This seems very risky. (edit: For me personally. Every person needs to take into account their own health risk profile, age, etc.)
ALX Oncology IPO: 92% return in a single day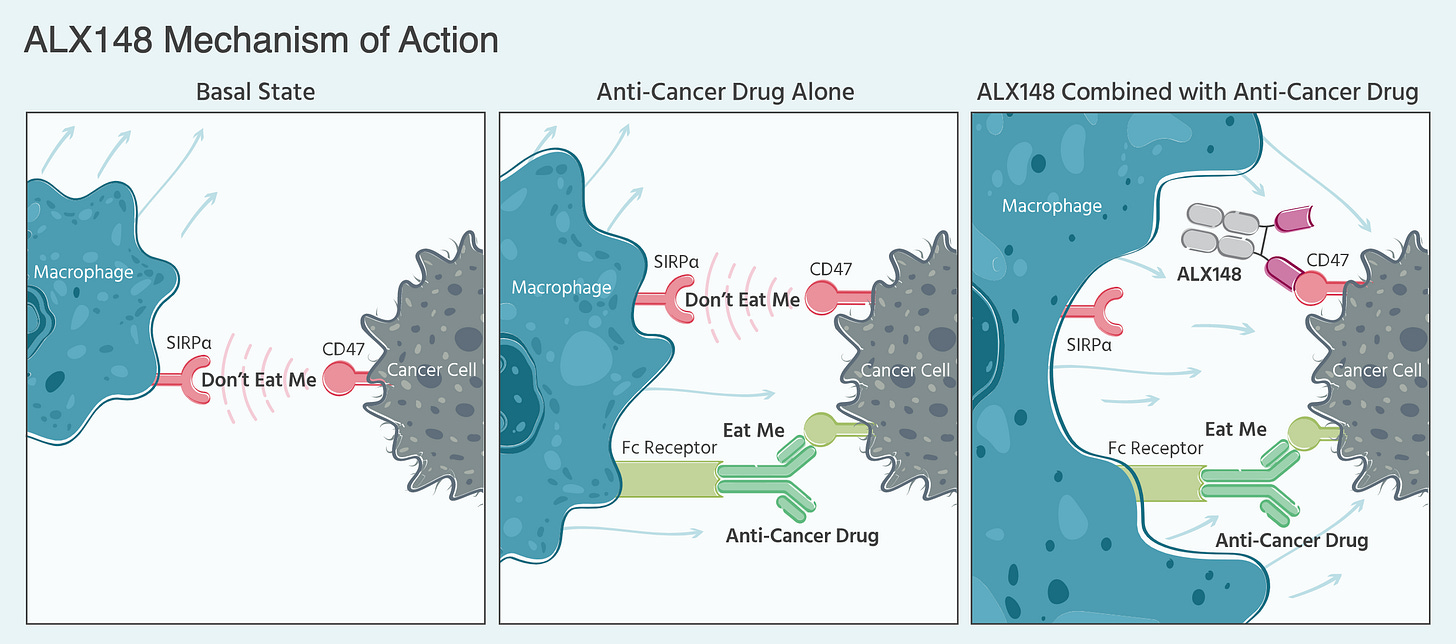 The Longevity Fund (Laura Deming's VC fund) backed company ALX Oncology (ALXO) completed its IPO last week, offering 8.5 million shares of common stock at $19.00 per share. Although ALX Oncology is part of the Longevity Fund portfolio, they are not what I would consider a pure longevity play. Perhaps there is some immuno-senescence angle that I am missing? The company develops drugs that target the CD47 surface protein that cancer cells use to evade detection from the immune system.
The stock began trading on Friday and opened +92% above its IPO price before falling to $30 per share (+58%). It seems that IPOs have seen favourable speculation in the recent frothy market environment and other biotech IPOs this month have popped on their stock market debuts as well (PAND, BLI). For more upcoming biotech IPOs check out this calendar.
ALX Oncology is the third Longevity Fund company to go public. The other two IPO companies include Unity Biotechnology (UBX) and Precision Biosciences (DTIL)
If ALX Oncology's price action is anything like other biotech IPOs, you could expect the hype to fade over the next few months after the "IPO bump".
---
AstraZeneca Vaccine Trial Announcements
On Monday July 20th 2020, AstraZeneca (AZN) will announce the results of their SARS-CoV-2 vaccine Phase 1 clinical trial. Robinhood Traders await with bated breath and with, what I assume are, YOLO call options on Norwegian Cruise Lines.
The company is collaborating with University of Oxford to develop a vaccine that uses a genetically-modified inactivated adenovirus that expresses the same spike glycoprotein as the SARS-CoV-2 virus.
Positive vaccine news from AstraZeneca will be net beneficial for the equity markets but the effect on the company's stock price might not be as substantial as their vaccine is being developed as a non-profit venture. This of course did not stop speculators from bidding up AstraZeneca's stock price on Thursday and Friday of last week (+13.6% on the week). The market seems to be firmly in the camp of "profits don't matter".
Unity Biotechnology releasing trial results in Q3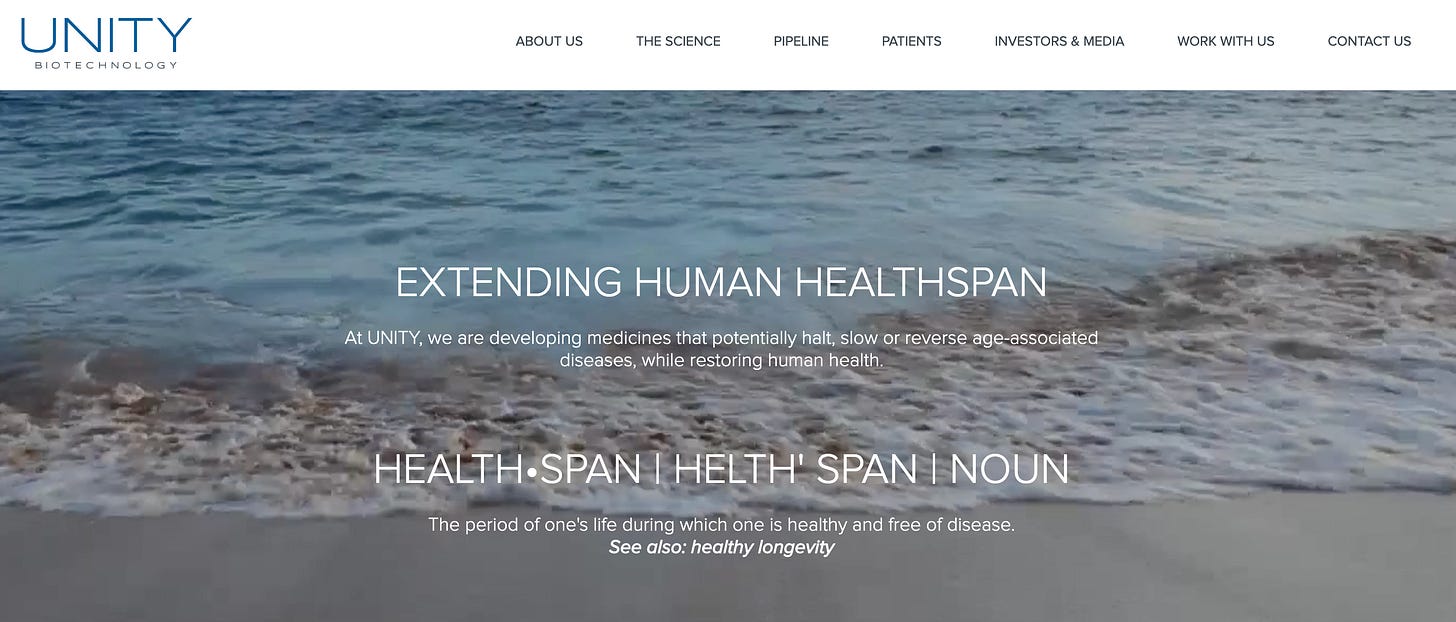 Unity Biotechnology (UBX) is slated to announce the results of their Phase 1 trial of their osteoarthritis drug UBX0101 sometime in Q3 this year. The company develops drugs that target senescent cells — zombie cells that stop dividing but do not die.
The release of their clinical trial results will be a big deal.
Unity Biotechnology is kind of like the poster child of the nascent longevity biotechnology revolution. The company is backed by the venture capital firms of Peter Thiel (Founders Fund), Jeff Bezos, and Laura Deming (The Longevity Fund), ARCH Ventures, and currently has the one of the largest market caps of any of the "pure longevity play" stocks. If there was ever to be a major development in the longevity industry that sparks the inevitable longevity gold rush I would bet it would come out of this company.
I highly suggest you listen to this episode of the Peter Attia Podcast featuring Unity Biotechnology co-founder Ned David to get a feel for the approach he takes to running the company and the technology they are developing.
*Disclosure: I own shares in Unity Biotechnology.
Biotech and S&P500 correlation continuation or divergence?
The biotech sector in general has vastly outperformed the S&P500 since the markets hit their lows in March this year. XBI (equal-weight biotech sector ETF) is up a whopping +77% versus the +44% SPX.
Year-to-date XBI is up roughly 27% versus -0.31% for the S&P500.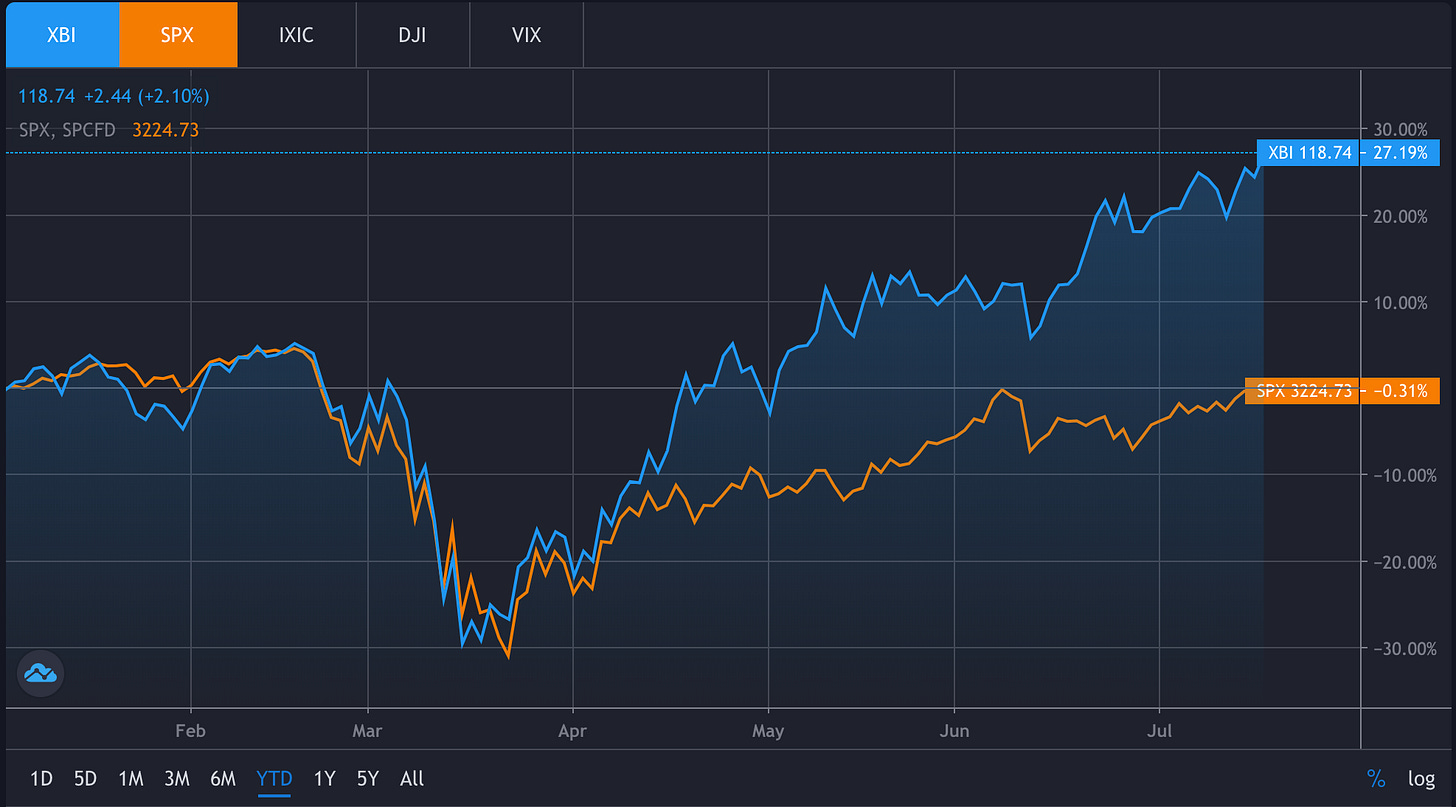 Some of the outperformance by biotech stocks can be attributed to speculation in COVID-19 vaccine or treatment stocks. The NASDAQ index as a whole (where most biotech companies are listed) has outperformed the S&P500 by a large margin as well, up roughly +20% YTD.
However, the performance of the general biotech sector has been very much correlated with the S&P500. If the macroeconomic picture deteriorates on account of the 2nd wave of the pandemic, poor earnings this week, company solvency issues, etc, will we expect the biotech sector to fare better or worse than the S&P500?
Covid vaccine and treatment stocks could certainly serve as a hedge against virus-induced market fear, but it is likely that the general biotech sector will continue to be correlated with the broader equity markets. And there's really only so much upside for vaccine stocks no matter how desperate governments are to develop a solution.
But long term the biotech sector should be a great area of growth. When trying to decide what areas would have the biggest impact on humanity, Elon Musk listed five things:
The Internet, Sustainable energy, Multi-planetary life, Artificial Intelligence, and Changing human genetics.
There's already been a surplus of investor hype in most of these areas. Bubbles have come and gone. But biotech and its manifest destiny of life extension has not yet seen the investor hype commensurate with its potential outsized impact on humanity.
This of course represents a massive opportunity. It's still early days but the bubble will come.
---
Unity Biotechnology (UBX) Technical Analysis

UBX stock hit an all time low during the coronavirus correction in March but has since nearly doubled in price. In a normal world this would be considered notable but many seemingly unremarkable Nasdaq listed stocks have seen similar or better price performance over the same time period. (I'm looking at you, Purple Mattresses)
The price recently topped on cue with a TD 9 Sequential. I am generally skeptical of the numerology of technical analysis but TD Sequential does a pretty good job of quantifying investor momentum psychology. In the absence of any fundamental data or company news releases the price of biotech stocks often can be navigated using momentum indicators like TD sequential.
The last few trading days saw some unusual large gap ups at the open, which might close in again so beware of that. The company's highly anticipated release of clinical trial data sometime this quarter could be a source of price volatility.
CohBar (CWBR) Technical Analysis

About 2 weeks ago I saw that CohBar was primed for a momentum reversal on the daily and weekly scales and tweeted:
The price is now roughly up a modest +12% from when I noted the entry opportunity. I have no long term investment thesis on this company other than the fact that mitochondrial therapies seem super cool. The company does have some major heavy weights of the longevity science field (Nir Barzilai and David Sinclair).
*Disclaimer: This information is only for educational purposes and should not be taken as financial investment advice.