Discover more from Longevity Marketcap Newsletter
Investing in the Longevity Biotechnology Revolution. By Nathan Cheng + Longevity List.
Over 4,000 subscribers
#004: How to invest in longevity companies according to Juvenescence CEO Dr. Gregory Bailey
UBX epic pump, my buys last week, Technical Analysis
In this edition of Longevity Marketcap Telemetry (August 10th, 2020) :
What happened last week?

What to look for this week?

How to invest in longevity companies according to Juvenescence CEO Dr. Gregory Bailey.

Technical Analysis
*None of this should be taken as financial advice. The information here is for education purposes only.
*Disclaimer: I have positions in UBX, AGE, and MESO.
*Hey everyone! So sorry this is arriving late in your email inbox. I published this on Monday night but must have forgotten to click the "send to mail" box. —Nathan
---
What happened last week?
AgeX mega-bounce. I wrote in last week's newsletter that AgeX Therapeutics (AGE) was close to a critical technical level and I wanted to enter a position. After a year of decline, the stock looked sufficiently beaten down. Short-term momentum reversal indicators pointed to oversold as it approached a key trend line. Unfortunately, the bounce came two days earlier than I expected. On Tuesday AGE gained +40% — on no news. As I wrote in a thread, I bought in on the 62% retracement the next day @ $1.29 / share.

Mesoblast (MESO) breaking out: Stem cell therapy biotech Mesoblast broke out to multi-year highs (All-time highs were in 2011 on the Australian Stock Exchange). This was another stock that I wrote about in the previous newsletter. Momentum is positive now but expect a "light switch" moment when they release interim data for their remestemcel-L Ph. 3 randomized trial for Covid-19 ARDS in September. I ended up buying MESO this week @ $15.61 / share.

Denali Therapeutics (DNLI) +30% gain. This neurodegenerative disease pharma company announced a massive $465 million investment from Biogen, which caused the stock to rally like crazy. Even Robinhood traders took notice.

CohBar (CWBR) rallies +20% on positive pre-clinical in-vivo results. One of their candidates showed positive anti-fibrotic properties in cultured human lung cells and mouse models.

Unity Biotechnology (UBX) announces 80M debt financing from Hercules Capital. Stock has been steadily gaining since then. Today saw a nice rally.

Added Grifols S.A. to LongevityMarketcap.com. A reader notified me about this Spanish blood biologics company. They own 45% of Alkahest, a privately held biotech company developing young blood plasma factors to target aging.
---
What to look for this week
Unity Biotechnology +40% epic pump and pullback. This stock was showing some signs of momentum exhaustion on Friday last week. But then things went crazy on Monday with a +40% rally that pulled back at the close. More on this in Technical Analysis

resTORbio (TORC) quiet comeback. This rapalog / mTOR drug stock is trending upwards after its brutal -88% crash on negative results back in November 2019. For technical reasons there could be a bounce this week. See Technical Analysis.

ALX Oncology (ALXO) looking for a pullback. This Longevity Fund backed immuno-oncology company IPO'd at $19 a share and then skyrocketed to $50 over 16 trading days. Momentum indicators are pointing to reversal. See Technical Analysis.

AgeX Therapeutics (AGE) trend inflection. Still not out of the woods yet. There might be another chance for a buy off the trend line. I don't think this stock will go to zero because of one big reason. See Technical Analysis for more.

LEAF's End Age Related Disease Online conference on August 20 - August 21. Still two weeks away but you should get your tickets ahead of time. It will feature speakers from aging research and industry. The free ticket also includes a 3-hour workshop on "Developing a Biotechnology Startup"

Jim Mellon added to the list of speakers at Longevity Investors Conference October 1st. I'm a fan, to say the least.
---
How to invest in longevity companies according to Juvenescence CEO, Dr. Gregory Bailey.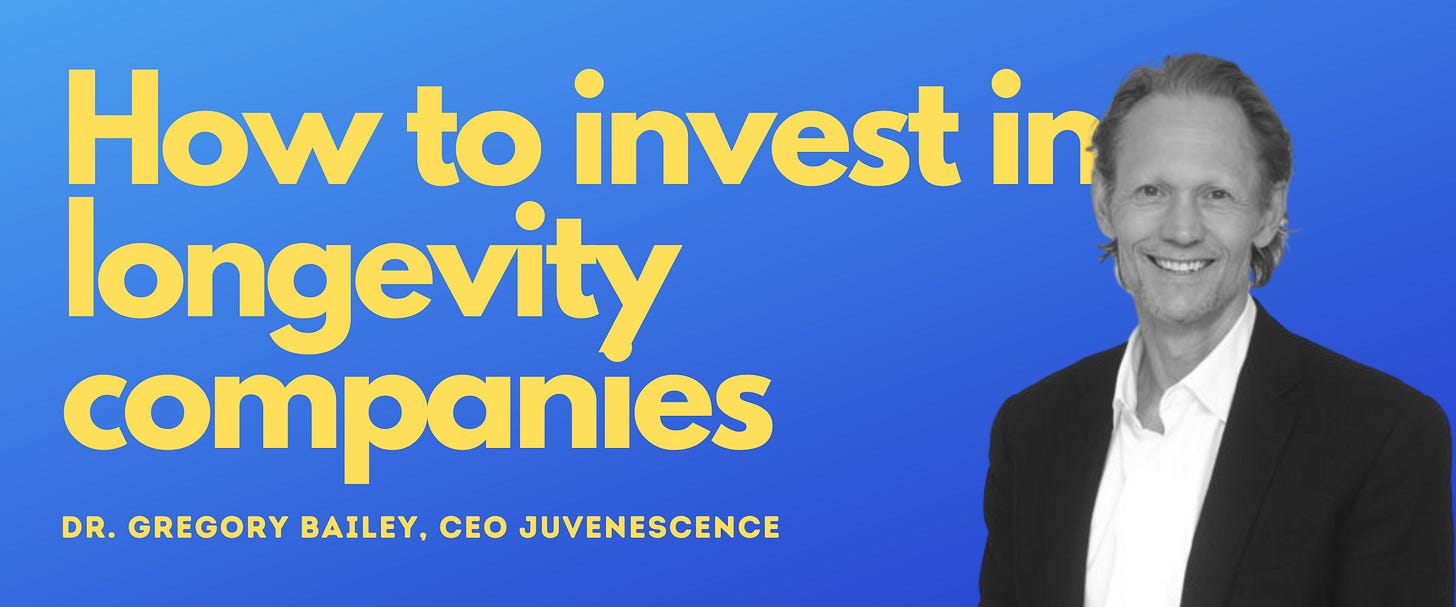 What is Juvenescence Ltd?
Juvenescence Ltd is a major longevity company that invests, partners, and develops rejuvenation medicines and therapies. The company also happens to be backed by billionaire and patron saint of longevity investing, Jim Mellon.
Some of the companies in Juvenescence's portfolio include:
Insilico Medicine: An AI and machine learning drug discovery company founded by Alex Zhavoronkov.

AgeX Therapeutics: A stem cell and tissue regeneration therapeutics company founded by Mike West.

LyGenesis: An organ regeneration company that is attempting to grow ectopic livers in lymph nodes.
Juvenescence Ltd raised $168M in a Series B round in 2019 and is valued at $500M. An IPO was in the works but is likely postponed due to current macro factors.
The Simple Biotech Podcast Ep 6 - Dr. Gregory Bailey, CEO Juvenescence
In my research into Juvenescence Ltd I discovered a wonderful podcast, The Simple Biotech Podcast — by James Ruhle, that featured a recent interview with the CEO of Juvenescence. In the episode, CEO Dr. Gregory Bailey explains his approach to investing in longevity companies.
The podcast was especially informative for those of us coming from non-biotech investing backgrounds. I have written a summary of the main takeaways from the interview annotated with my own thoughts.
Biotech investing is not like Tech investing. It's more like Mining.
Dr. Greg Bailey believes that biotech investing more closely resembles mining investing than traditional tech investing.
"Light switch moments". Both drug discovery and mining discovery are dominated by binary outcome events or "light switch moments". Either the drug works and the product becomes extremely profitable or it doesn't work and it is worth nothing. But it takes time and money to see the outcome.

Drug development is capital intensive. Bringing a drug to market costs billions of dollars. Building a mobile app costs many orders of magnitudes less.

However, investing in the right team is central to both tech and biotech.
I like the Biotech is Mining analogy.
There's a vast expanding landscape of exciting biology research that has yet to be tapped. It just needs someone with the bravery to invest the money to drill down to see if translates to beneficial human use.
Tech is about finding products that "work" in society. Biotech is about finding products that work in humans.
Said another way:
Biotech is risk management in uncertainty of the emergent behaviour of collections of cells.
Tech is risk management in uncertainty of the emergent behaviour of collections of humans.
Dr. Greg Bailey's Five Rules for Investing in Longevity Companies
Dr. Greg Bailey uses the following five rules to vet longevity investments:
Does the science make sense? This can be difficult to gauge if you don't have a background in the specific area of interest.

Is there IP protection? This is the easiest part to determine.

Do I agree with the business plan?

Do I think the management can execute on the plan?

Does the company have enough capital to get to the "light switch moment". This is the most important question.
This is a simple but powerful framework for evaluating longevity biotech companies.
Rule #5 should really be listed first in my opinion. As my favourite author wrote,
"In order to succeed, you must first survive".

-??? (Bonus points if you know whose quote this is. Write it in the comments!)
There is no sense in vetting the science or IP protection if the company does not have enough money to survive. A biotech startup is equal parts science and money management.
I recall one video of a longevity investing conference speaker joking that Unity Biotechnology was "not so much a drug development company than a finance management company".
Cash is king.
Longevity investing will tap into the retail zeitgeist like Beyond Meat
Dr. Greg Bailey thinks that a Juvenescence IPO would attract retail much the same way as Beyond Meat (BYND).
He is on to something here.
Longevity biotech ticks many of the key boxes that are common in retail crazes like cryptocurrency, Clean Meat, Electric Vehicles, cannabis, or the 90's Dot-Com bubble.
Transformative effect on society. It needs to promise a radical paradigm shift. Incremental changes are boring. Ending aging will change what is means to be human forever.

Something tangible or visceral. It needs to be something an ordinary person can care about or experience. Salesforce is a $177 billion dollar CRM company. Nobody cares. Everyone, however, has aging.

The transformation must promise outrageous returns. Bank of America predicts the longevity market to reach 500 billion by 2025. Even by my conservative estimates this represents a 4x factor of growth from here.
The last frontier of longevity biotech will be neurodegenerative disease.
Until one crucial piece of the aging puzzle is solved longevity biotech will only be able to extend our lives to about 120 years.

Nobody wants to live to 200 years if the last sixty are with Alzheimer's disease. We must defeat neurodegenerative disease.

Cellular aging therapies and tissue regeneration are great. But applying it to the brain might be tricky. We cannot simply regrow a new brain. A better approach might be preventing neurodegeneration.

If we can solve aging + neurodegeneration then we could live 600+ years.
Within the first two minutes of the Netflix documentary Inside Bill's Brain, Bill Gates shares his number one fear:
"I don't want my brain to stop working"
Neurodegeneration is something that I have also recognized as a major gating function for super-radical life extension. That's why I have included companies such as Denali Therapeutics and Alector on LongevityMarketcap.com. There have been a number of high profile AZD drug failures but I am optimistic progress will be made. Biogen shares this optimism as shown by their massive investment in Denali Therapeutics last week.
The brain is tricky. We can repair damage in other tissues willy-nilly but at what point will repairing the brain change what makes you you? These are treacherous waters to be sailing the Ship of Theseus.
Technical Analysis
Unity Biotechnology (UBX)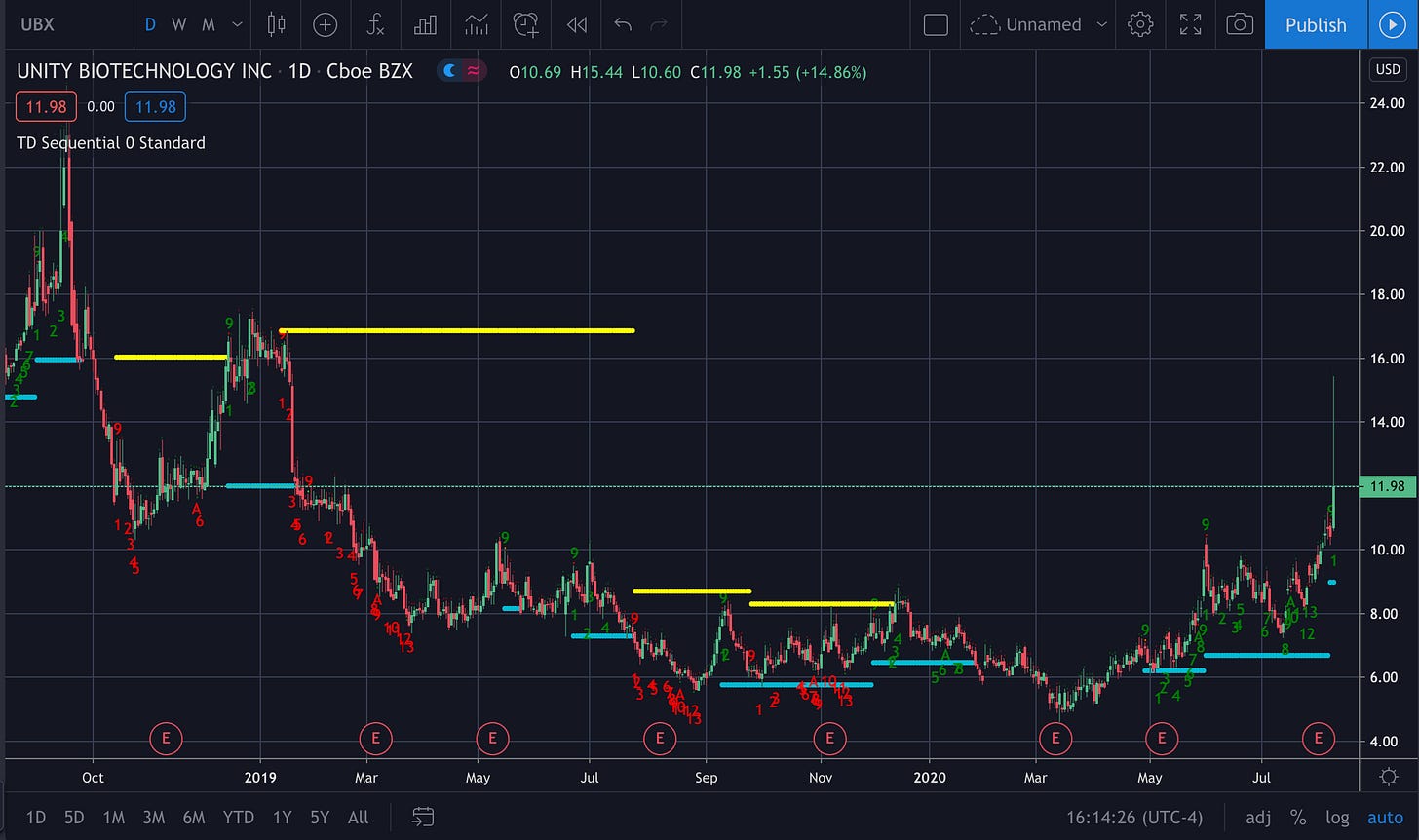 Oh. My. Lord.
Today was quite the treat for chart watchers. Unity Biotechnology, senolytics drug developer, started off the day continuing its gains from last week. Despite momentum indicators signalling a local top, the price started to climb around noon New York time spiking to +40% on the day.
On NO news.
Was there an announcement forthcoming? Data leak of their osteoarthritis trial? Nope. Nothing. I will update a thread if I find some more information.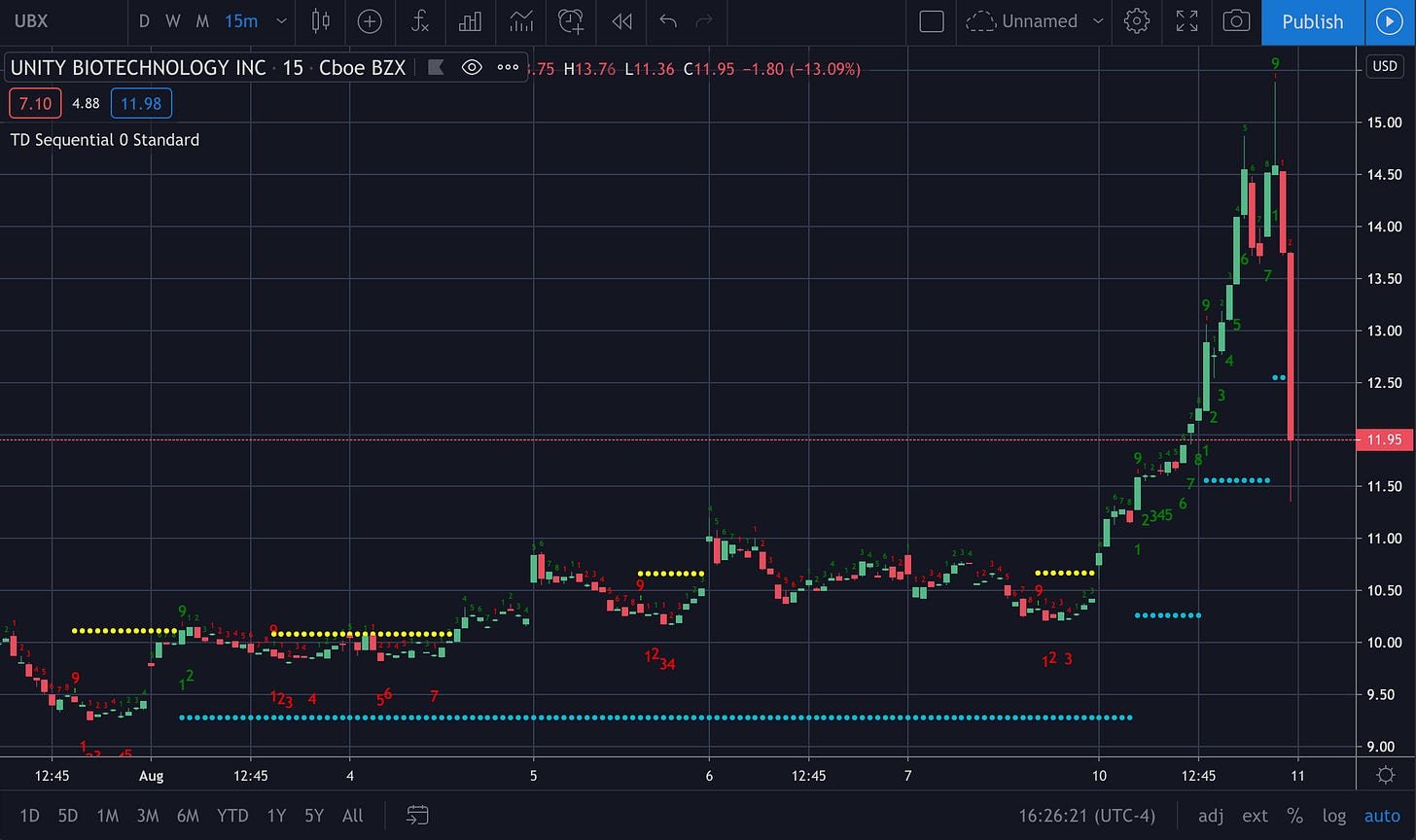 The stock eventually pulled back with a mere 15% gain for the day. Note the top was called out beautifully by a triple 9 TD sequential on the 15 min scale.
What does this mean for tomorrow? I have no clue. If there is a fundamental reason behind the move (clinical data, investments, news) then more upside is likely warranted. If this is just algo-malarky then downside momentum is going to continue. The pump was nice but mind you it was followed by a 22% drop from the top in ~30 minutes.
Without more information I am going to sit this one out. I am just glad that I already added more to my UBX position last week.
Please pray for the homies that FOMO'd in at the top.
Long term the trend for UBX looks bullish. Today it broke through key resistance levels from 2018 / 2019.
AgeX Therapeutics (AGE)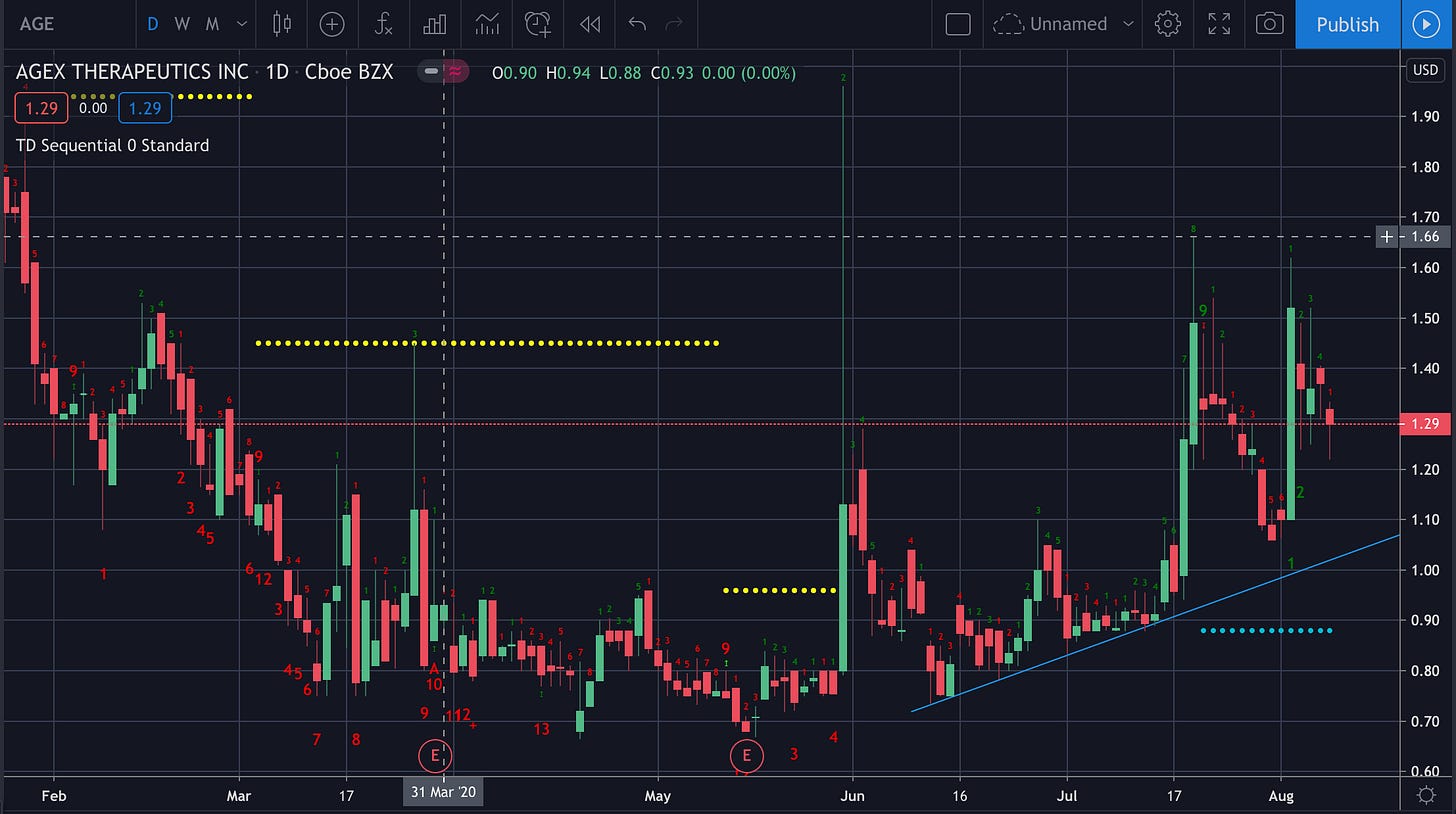 In my newsletter last week, I wrote on AgeX
it had bottomed after a massive year-long beat down

trending higher

getting close to touching a key trend line

with a momentum reversal indicator flagged
And indeed the stock bounced HARD off the trend line with a +40% rally on Tuesday last week. I ended up buying on the retracement @ $1.29 / share. But it looks like we may approach the trend line again this week, but this time without any momentum reversal indicator. This week will be critical.
Since the stock is down 75% from its highs AND Juvenescence Ltd already admits to owning around 50% of the company, I doubt it will go to zero. Most likely some deal will be brokered if it comes to it. AgeX is said to have some valuable patents and IP.
resTORbio (TORC)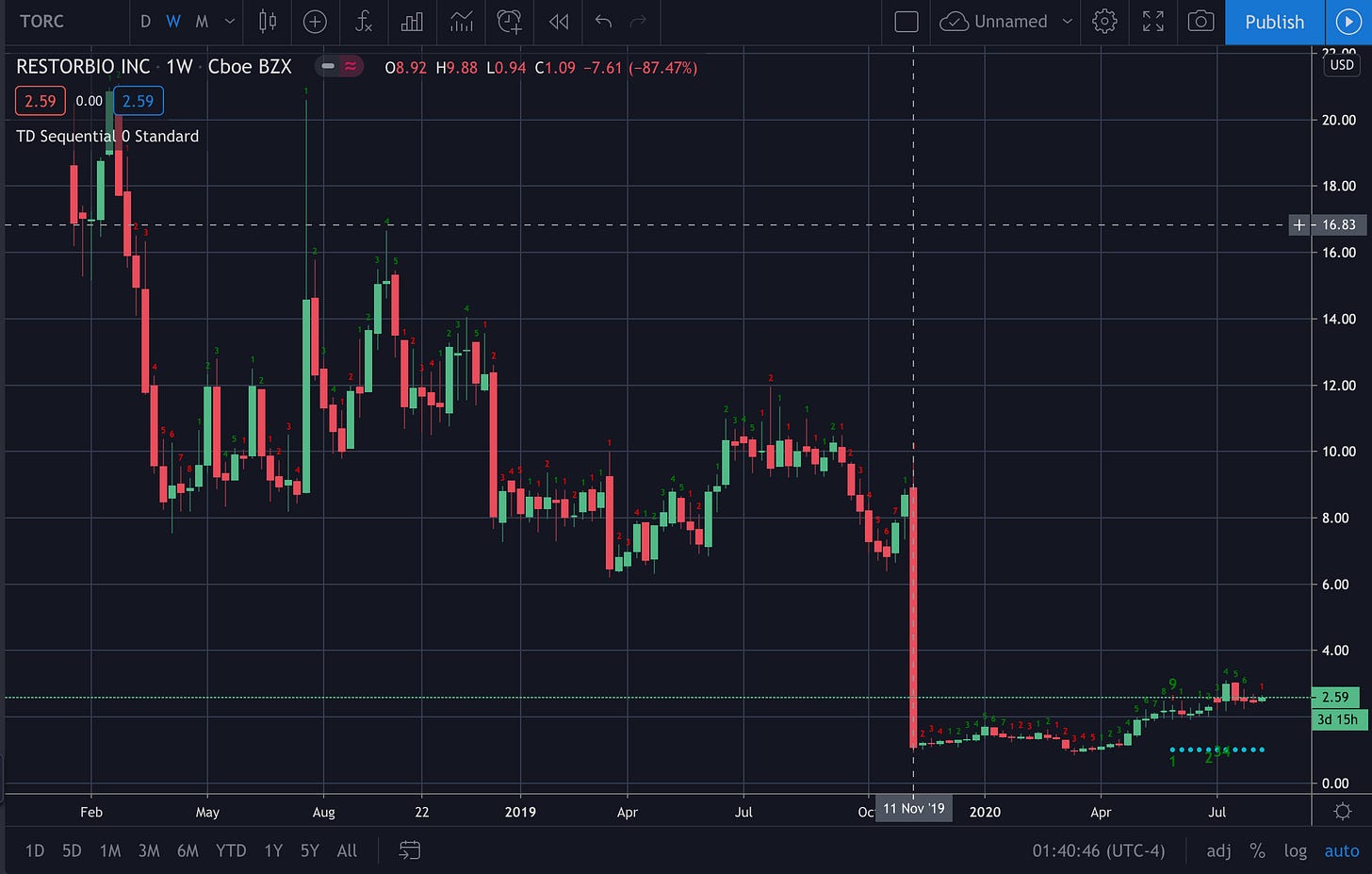 Here's the weekly view of rapalog / mTOR drug developer resTORbio. You can see the it used to be a $20 stock but ran into a "light switch moment" (halted trial, failed endpoint). This cratered the stock to crater 86% in day, prompting even Aubrey de Grey to cry out for an end to the carnage.
The stock has seen a resurgence now that boosting immunity in older adults (especially re: respiratory disease) is relevant. It has been quietly digging itself out of a hole.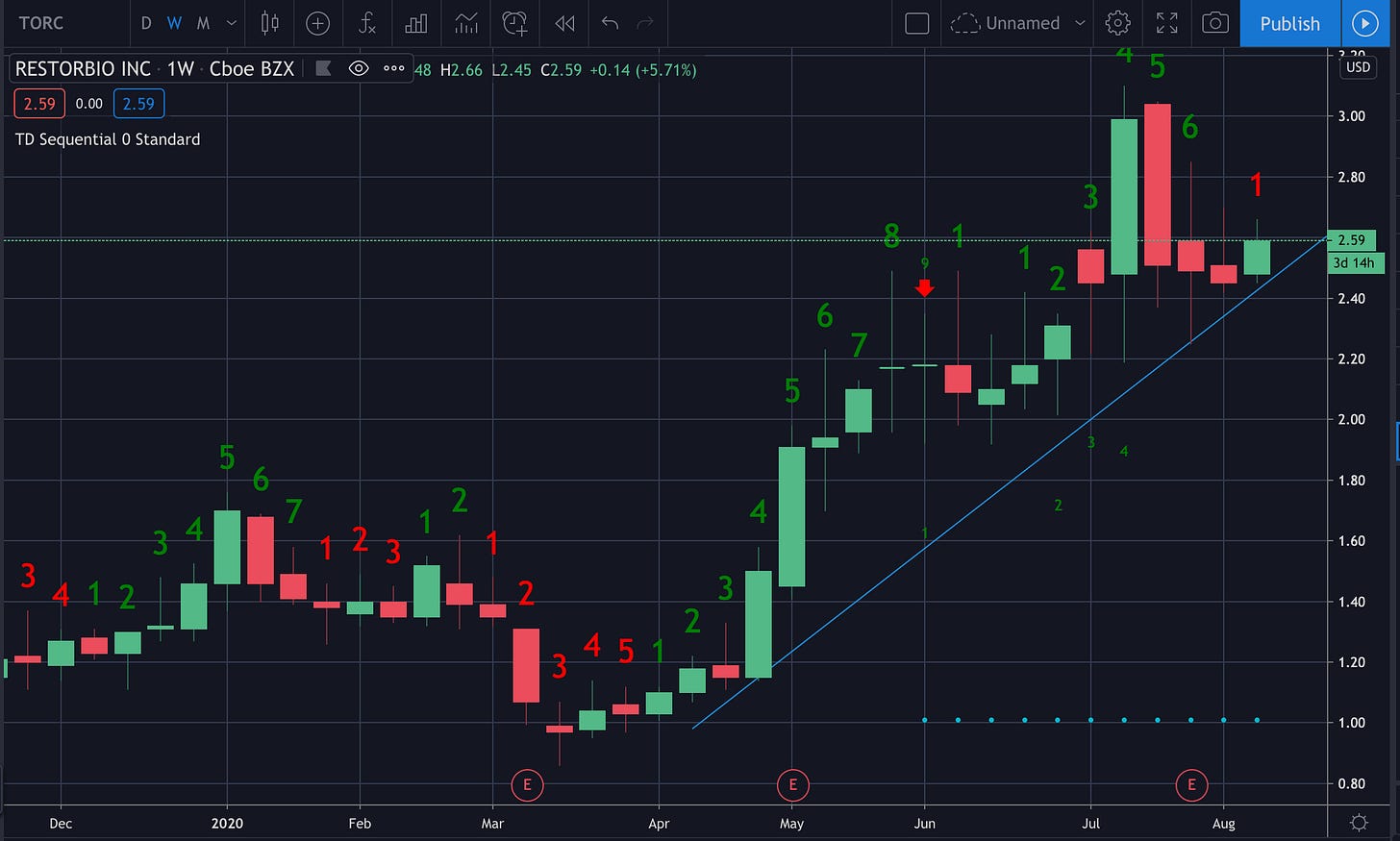 Momentum indicators are murky in the short term. Long term looks okay so long as we don't break trend. I don't have enough confidence to make a decision either way.
ALX Oncology (ALXO)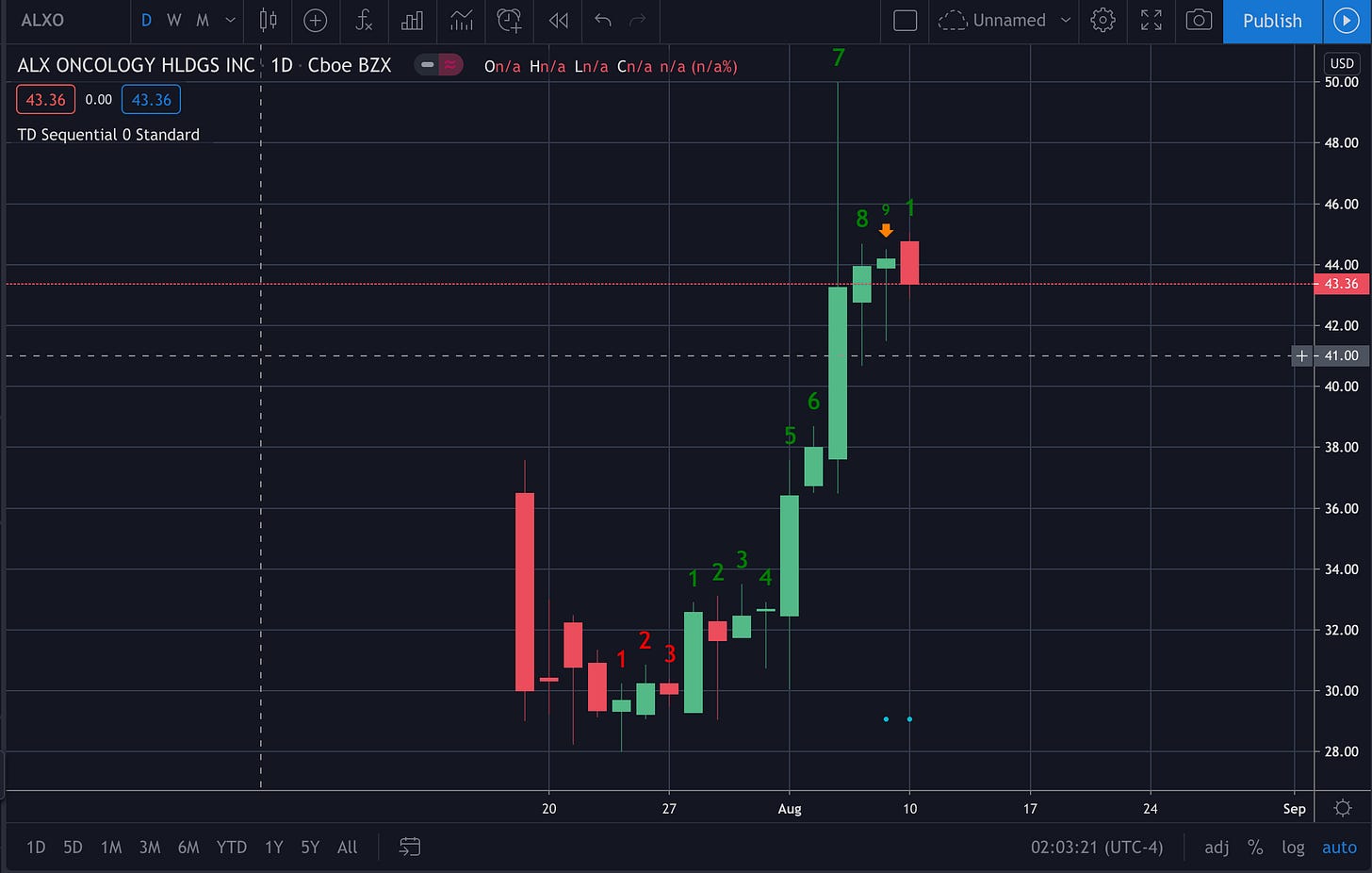 This recent IPO'd CD47 immuno-oncology company backed by The Longevity Fund is seeing a bit of a correction already. However the IPO hype phase for biotechs can last for many more months.
The IPO price was $19 and the stock closed at around $30 on the first day. I don't have an expertise in cancer immunotherapy (yet) so I can only rely on technicals and heuristics. A 50% drop from the first day closing price — so $15 — would get me interested in buying.
The company currently has a marketcap of $1.6 Billion.
Mesoblast (MESO, ASX:MSB)
Note: I wrote this on Monday August 10th, 2020. The next day MESO dropped 30% of a FDA notice regarding Mesoblat's stem cell treatments for graft vs host disease. I will leave my optimistic writing below unedited in order to be tarred and feather in the comment sections.
Here's the historical chart for Mesoblast on the Australian Stock Exchange: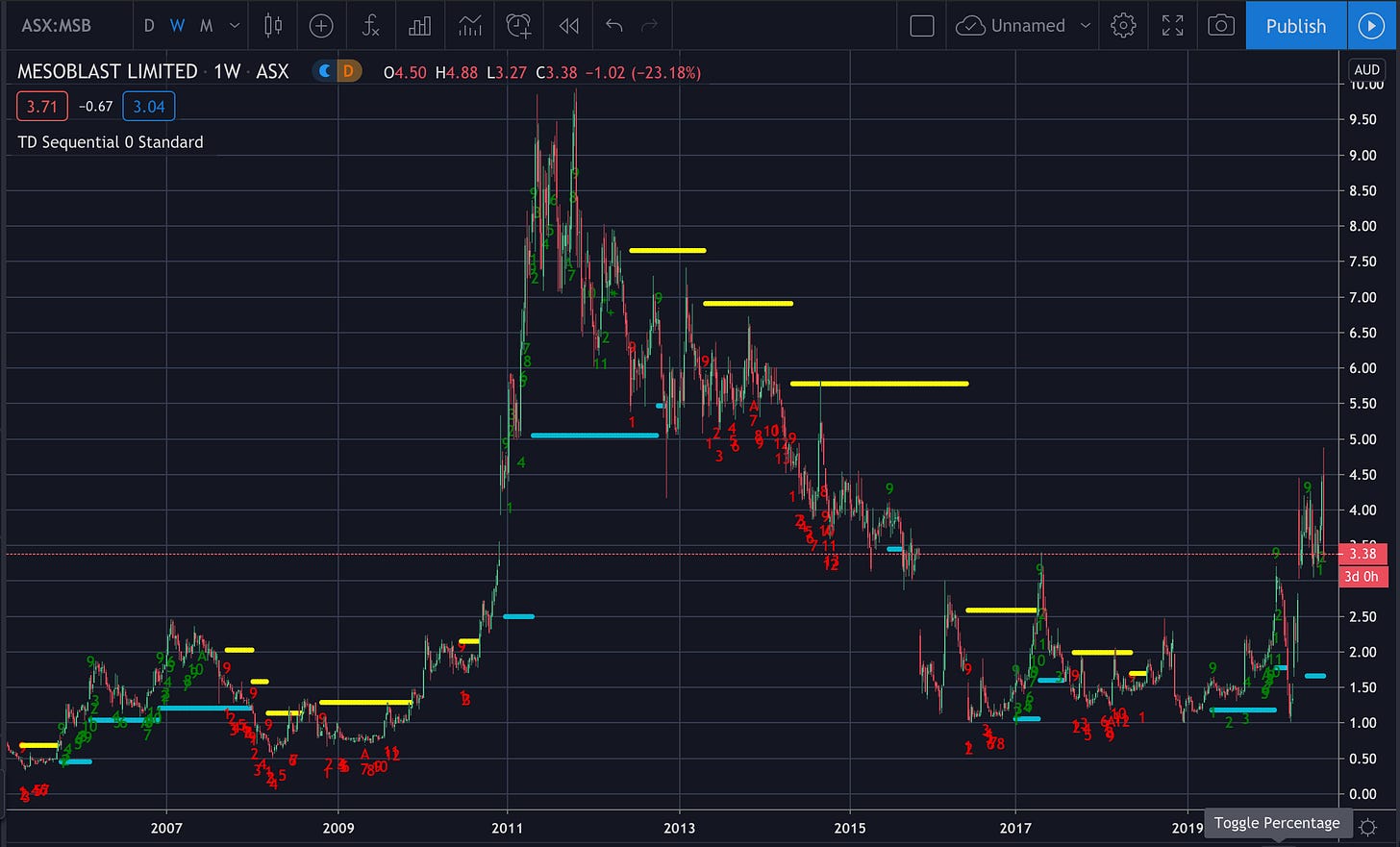 Mesoblast has been taking out multi-year highs recently and there is plenty more upside available.
Switching to the NASDAQ chart: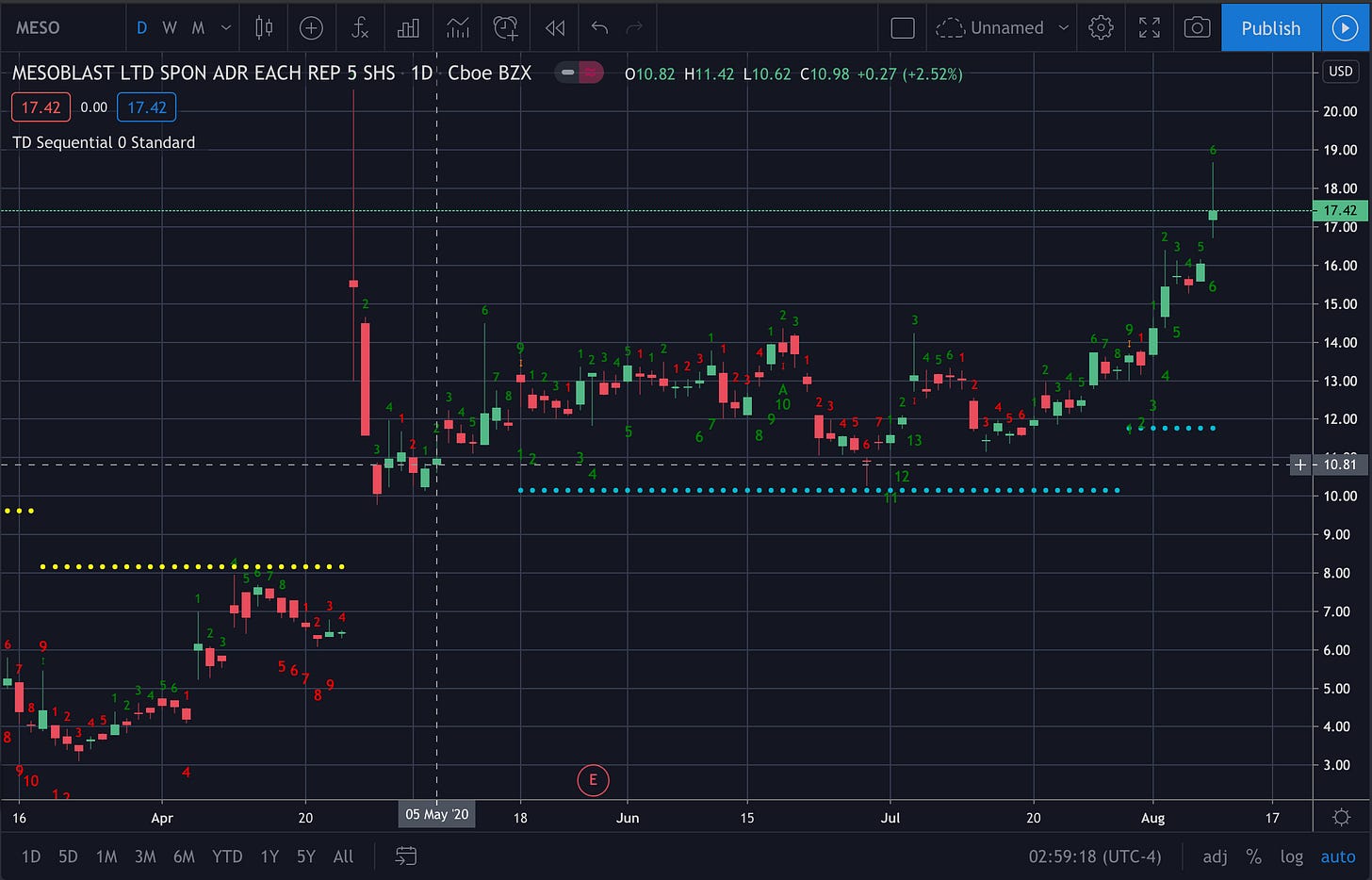 I don't see any major warning flags anywhere yet. I bought in @ $15.61 / share on the move breaking above the April swing highs.
I wouldn't be surprised to see the stock continue moving higher until we collapse the wave function on their remestemcel-L Covid-19 trial outcome. Some data is expected in September.