Discover more from Longevity Marketcap Newsletter
Investing in the Longevity Biotechnology Revolution. By Nathan Cheng + Longevity List.
Over 4,000 subscribers
#012: Longevity ETFs are here. But are they any good?
Mesoblast FDA Rejection. Longevity stocks on CNBC.
In this edition of Longevity Marketcap Telemetry
Notable Last Week

Investing in Longevity ETFs: Are they any good?

No Technical analysis this week. Newsletter is too long.
*None of this should be taken as financial advice. This information is for educational purposes only.
*Warning: Investing in biotech is risky!
- Nathan Cheng // LongevityMarketcap.com // LongevityList.com // Biohackstack.com
---
Notable Last Week
FDA rejects Mesoblast's Ryoncil stem cell therapy. On September 30th, the FDA was scheduled to decide on Mesoblast's Ryoncil (remestemcel-L) for acute pediatric graft vs host disease. The FDA oncology advisory committee (ODAC) had voted 9-1 in favour of the allogenic stem cell therapy earlier in August.

FDA decision day came but instead of triumph Mesoblast asked to halt the trading of its stock. Not a good sign. Finally, on Friday Mesoblast announced that the FDA had rejected Ryoncil and was requesting one additional randomized trial from Mesoblast.

Mesoblast stock tanked 35% on the day but saw a decent bounce on Monday. The FDA rejection was notable as Ryoncil was poised to be the first non-cord-blood / blood-related stem cell therapy approved in the United States. The stem cell revolution will have to wait a bit longer.

Jim Mellon's upcoming Juvenescence IPO makes the news on CNBC. Last week I wrote about how we are at the beginning of a longevity biotech bubble. And then, as if right on cue, CNCB wrote an article on Jim Mellon's plans to take Juvenescence, a diversified portfolio anti-aging drug discovery company, public. These are the distant rumblings of the coming bubble.
---
Investing in Longevity ETFs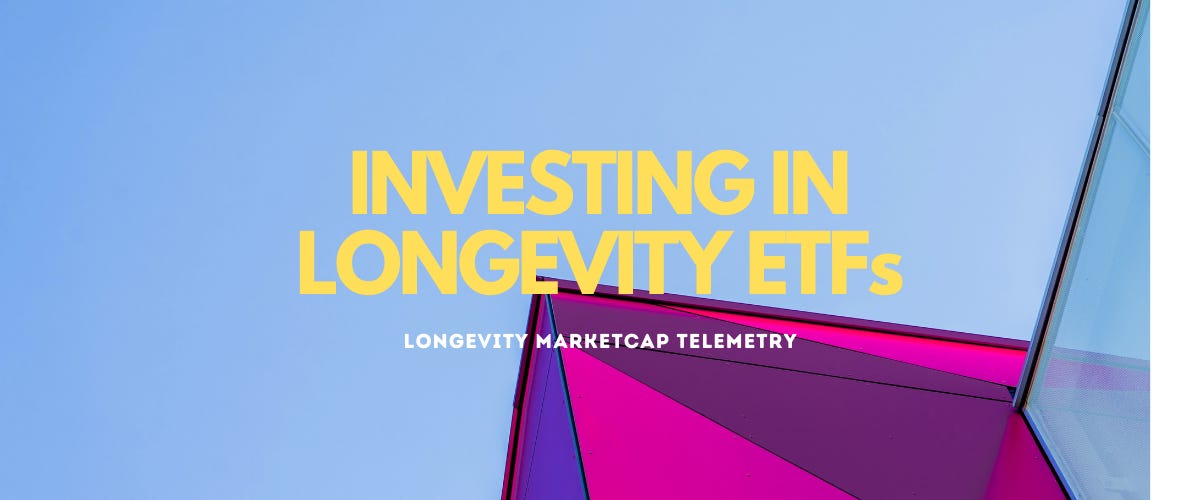 What's an ETF?
ETFs (exchange-traded funds) are popular investment vehicles that allow investors to buy a portfolio of many different securities combined into one easily purchased single share.
An ETF can represent any number of different investing strategies:
basic index funds (like SPY, tracks S&P500 performance)

sector specific (XLE- Energy, XLK- Tech, XBI- Biotech, etc)

tail-risk hedging via OTM options a la Taleb (TAIL),

leveraged indexes (TQQQ, 3x daily movement of the Nasdaq)

Bitcoin (QBTC, GBTC)

and YOLOs (3LTS, 3x leveraged Tesla shares)
Do Longevity ETFs exist?
Longevity biotechnology is destined to become the biggest industry in history. It will be an incredible opportunity for investors.
But biotech therapeutics also have a very high attrition rate. ~90% of clinical drugs fail. Failure is the norm, not the exception.
So investing in a diversified and liquid longevity biotech ETF is a great strategy in theory.
Unfortunately, no pure anti-aging biotech ETF currently exists. There is no ETF that incorporates the majority of the stocks listed on LongevityMarketcap.com in their holdings — yet. I'm sure there will be one within the next 6 years.
However, there are two thematics ETFs currently on the market that purport to have a longevity focus:
Global X's Longevity ETF (LNGR)

Ark Invest's Genomics Revolution (ARKG)
Let's take a closer look at both funds. Are they any good?
SPOILER: One ETF is exciting and optimistic. One is boring and pessimistic.
Global X Longevity ETF (LNGR)
The Global X Longevity Thematic ETF (LNGR) seeks to invest in companies positioned to serve the world's growing senior population through exposure to health care, pharmaceuticals, senior living facilities and other sectors that contribute to increasing lifespans and extending quality of life in advanced age.
Fund Facts:
Inception date: 5/9/16

Net assets: $40,757,598

Number of holdings: 100

Management fee: 0.5%

Annualized return since inception: 13.62%

Global X's Longevity ETF's investment thesis focuses on the coming "silver wave" demographic (Pharma, Medical Devices, Healthcare, and Assisted Living industries).
The fund holds 100 different companies, that deal with age-related disease and other issues of "illderliness". Although it has a 32% allocation to biotechnology the selected companies don't have a primary focus on preventing or reversing aging.
Let's take a quick look at some of their top holdings, in descending order of weight.
Hot or Not? Global X Longevity ETF Top Holdings (by weight)
Stryker Corp (SYK, $80 B). A maker of artificial joint implants and other medical / surgical equipment. NOT HOT

Novo Nordisk (CPH: NOVO-B, $125 B). Danish maker of diabetes treatments. NOT HOT

Edwards Lifesciences (EQ, $50 B). Maker of artificial heart valves. NOT HOT

Amgen (AMGN, $148 B). This biotech giant (and their PCSK9 inhibitors for high cholesterol) was mentioned favourably in Jim Mellon's book Juvenescence. It was also one of the few big biotechs included in Mellon's recommended longevity portfolios. HOT (recently got added to the Dow Jones Index)

Regeneron (REGN, $62 B). Another big biotech company. Has some interesting cutting edge CRISPR partnerships with Intellia. HOT

Abbvie (ABBV, $151 B). Big biotech mostly makes money from Humira, an autoimmune disease drug. They also have an anti-aging research partnership with Google's Calico. No comment.

Boston Scientific Corp (BSX, $56 B). Medical device company. Known for making drug-eluting stents that clear out artery blockages. No comment

Dexcom (DXCM, $36 B). Makers of continuous glucose monitors for diabetics and (increasingly) biohackers and Peter Attia wannabes. No comment

Vertex Pharmaceutical (VRTX, $68 B). Mostly known for expensive cystic fibrosis drugs. Also has some partnerships with CRISPR Therapeutics. NOT HOT

Chugai Pharma (TYO:4519, $73 B). Japan's largest pharmaceutical company. Nothing special wrt longevity or next gen biotech. NOT HOT

Medtronic PLC (MDT $139 B). Most known for making pacemakers. NOT HOT

SEATTLE GENETICS INC (SGEN, $35 B). Monoclonal antibody therapies for cancer. HOT

BRISTOL-MYERS SQUIBB CO (BMY, $130 B). Another big pharma giant. Mostly known for its immunotherapy drugs. Fun fact: They own the patent for metformin (now off patent) and dasatanib (believed to be a senolytic). No comment

BECTON DICKINSON AND CO (BDX, $68 B). Medical devices, instruments, supplies. Pretty boring company. NOT HOT

TERUMO CORP (TYO: 4543, $28 B). They make medical thermometers. Not a very bold choice for a Longevity ETF. What's next? Adult diapers?? NOT HOT

CELLTRION INC (KRX: 068270, $30 B). One of the largest South Korean pharmaceutical companies. Known for monoclonal antibody therapeutics. No comment

ZIMMER BIOMET (ZHB, $29 B). Known for artificial joints and other implants. Interestingly they also had a partnership with Revivicor for xenotransplantation, but it seems like a defunct venture now. NOT HOT

BIOGEN INC (BIIB: $44 B). Biotech with focus on neurological disease. Recently made a big investment in Denali Therapeutics for treatment of Alzheimer's. (Denali is a LongevityMarketcap.com company) HOT

HANSOH PHARMACEUTICAL (3692.HK, $28 B). China-based pharmaceutical company. No comment

ALCON INC (SWX: ALC, $28 B). Swiss-based Novartis spinoff specializing in eye care products (contact lenses, eye solutions, etc) NOT HOT

FRESENIUS MEDICAL CARE (ETR: FME, $25 B). Kidney dialysis services. Another loser if longevity biotech is to succeed. NOT HOT

ALIGN TECHNOLOGY INC (ALGN, $25B). 3D scanning for orthodontics. This seems like a real stretch for a longevity ETF.
+ 78 more…. *Once we got to Alcon and orthodontics I gave up.
There are some other interesting holdings in LNGR not covered above:
Bluebird Bio- Gene therapy for rare diseases and cancer. Was mentioned in Juvenescence and included in some of the model portfolios. HOT

Exact Sciences - A molecular cancer diagnostics company. A competitor to Grail, Personalis, and Guardant Health. HOT

Amarin- Maker of a prescription-grade Omega-3 fish oil. HOT
Verdict: FAIL
I'm not a big fan of Global X's Longevity ETF. It focuses too much on companies that treat the symptoms of old age (especially all the medtech and elder care stocks) rather than solving aging. If anti-aging biotechnology (like Unity Biotech, Juvenescence, etc) is successful in delaying or reversing biological aging many of the "illderliness" treatment companies in LNGR will suffer reduced revenues.
Maybe I am being too harsh.
It is possible that medical device tech can be considered another path to anti-aging technology as much as their small molecule/ cell & gene therapy / organ regeneration peers. Especially if there are major technological advances in medtech. It may turn out easier to engineer a robust artificial heart valve than regenerate a natural one.
However, I do sincerely hope the assisted-care living industry goes extinct.
Ark Genomics Revolution (ARKG)
*Disclaimer: I own shares of ARKG.
Companies that the Adviser believes are substantially focused on and are expected to substantially benefit from extending and enhancing the quality of human and other life by incorporating technological and scientific developments, improvements and advancements in genomics into their business, such as by offering new products or services that rely on genomic sequencing,** analysis, synthesis or instrumentation.

from the ARKG fund prospectus.
Fund Facts
Inception date: 10/31/2014

Net Assets: $1.3 billion

Number of holdings: 30 - 50

Annualized return since inception: 19.76%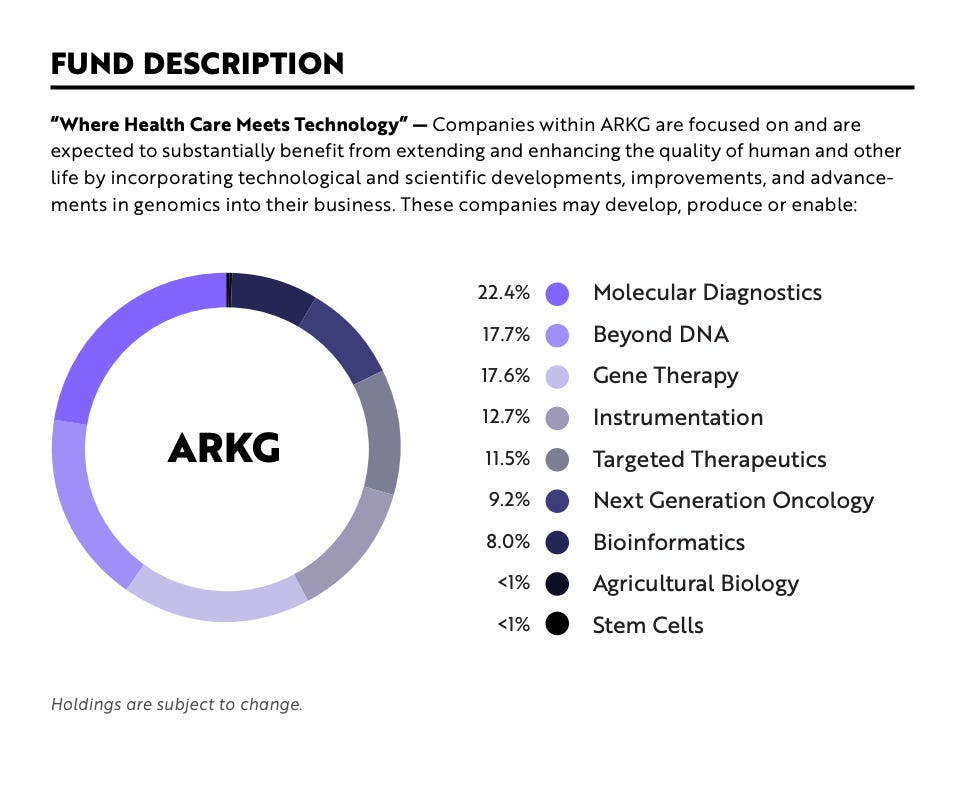 Ark Invest is an investment firm, founded by Cathie Wood, known for its focus on disruptive technologies. Wood is famous for her large early bets on Tesla and Bitcoin, among others.
Ark's Biotech fund, Genomics Revolution (ARKG), is a bet that the exponentially decreasing cost of gene sequencing and editing will revolutionize the ways we diagnose and treat diseases.
Longevity is not in the ETF name but the fund objective clearly states that they invest in companies that benefit from "extending and enhancing the quality of human and other life". (Read their short white paper here)
ARKG is an actively managed fund. It does not follow a passive sector index. Instead Ark continually chooses companies based on their own research and allocate flexibly — for a 0.75% management fee. This is high by ETF standards (a typical SP500 index fund ETF has < 0.1% fees) but low compared to legacy mutual funds.
Let's take a closer look at the holdings in Ark Genomics Revolution:
Hot or Not? Ark Invest Genomics Revolution Top Holdings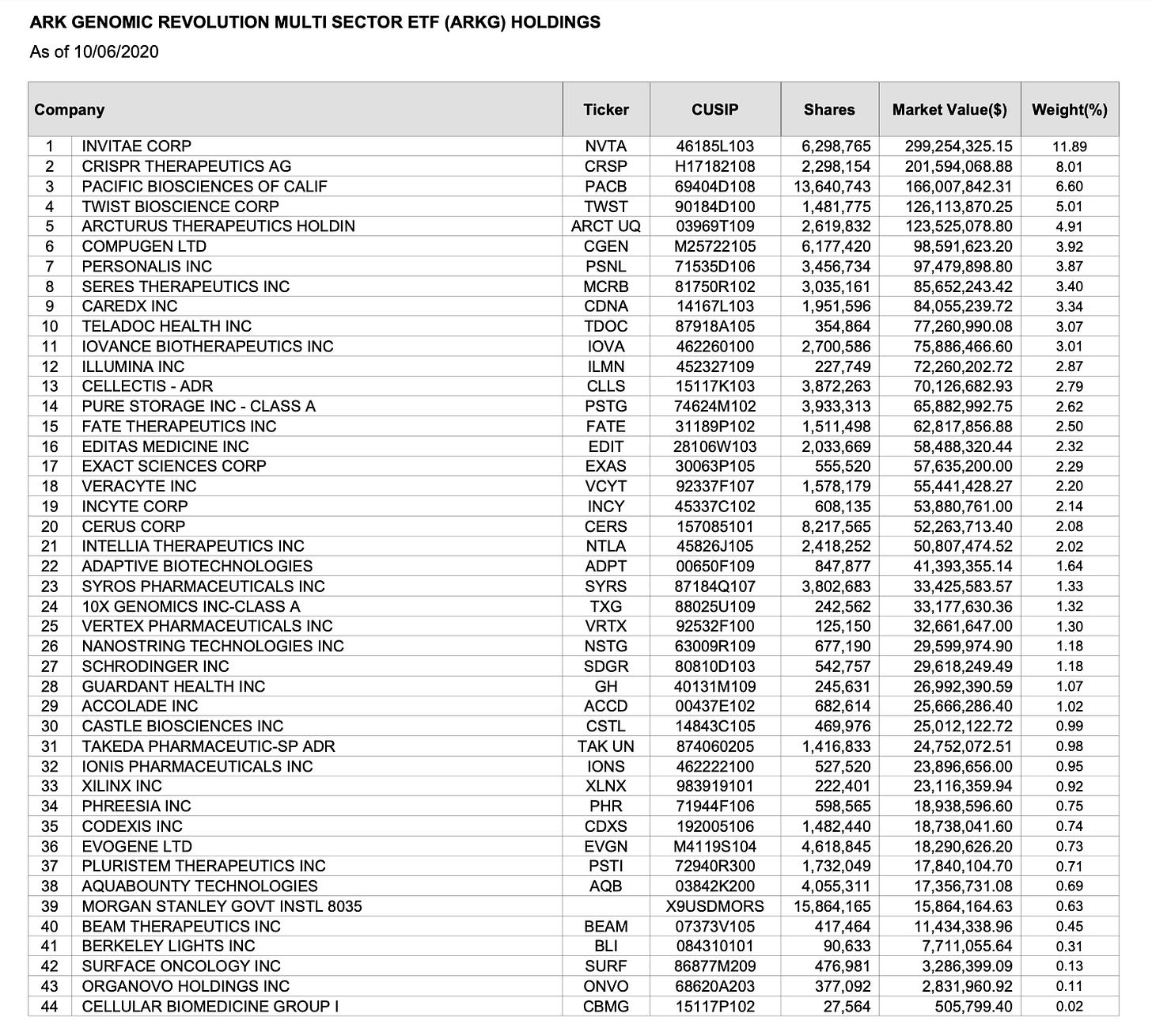 Invitae - Ark Invest owns ~18% of this rapidly growing company and it represents 12% of the fund — a high conviction bet. It's a clinical genomics company that aims to combine rapid whole genome sequencing with AI algorithms to quickly diagnose disease or increased disease risk. The company is up 10x in less than 3 years. However, there are concerns about their cash burn (they reported ~$140 million in operating expenses in the last earnings quarter compared to their ~$420 million in cash). If biotech had its own version of Tesla, this might be it. HOT — maybe too hot.

CRISPR Therapeutics - A high flying stock with a marketable name for retail investors. The company uses gene editing techniques (i.e CRISPR cas-9 or similar) to treat disease. They also have a regenerative medicine pipeline, which means I will probably need to add them to LongevityMarketcap.com eventually. The stock is up nearly 4x since 2017. The Nobel Prize in Chemistry was awarded to the discoverers of CRISPR cas-9 on Wednesday, which may have accounted for some of the ~11% gain on the day. HOT

Pacific Biosciences - PacBio develops long-read genome sequencing technology (also transcriptome and epigenome sequencing). The stock is up nearly 4x since the beginning of August when investors gobbled up a public stock offering above the trading price. PacBio and Illumina are big players in genome sequencing technology. I would wait before jumping into this stock. Momentum reversal indicators are flashing on the Daily and Weekly scales. TOO HOT.

Twist Biosciences - I like this company and have written about them before in this newsletter. They specialize in silicon-based DNA synthesis. They also are pioneers in using DNA as data archival storage (Thesis: All other data storage methods eventually become obsolete with technological progress, but we will always need to sequence DNA in the future). I have played around on their website and it feels very much like an AWS or Digital Ocean but for DNA synthesis. Very cool. Technical analysis: Currently on a TD 9 Sell on the month so be careful. The stock is up 330% YTD. HOT (maybe too hot right now)

Arcturus Therapeutics - A mRNA vaccine and medicine biotechnology company. Their technology uses mRNA to instruct our cells to build viral proteins in order to elicit an immune response in the body — similar to Moderna (MRNA). They also have a clinical trial for liver disorders that use this technology to get liver cells to create missing enzymes. mRNA technologies are seeing some hype — Bob Nelson of ARCH Venture Partners is said to be backing a stealth mRNA startup as well. Arcturus' stock is up a whopping 371% YTD due to covid-19, but down 70% from its peak in 2014. HOT

Compugen - an Israeli company that uses computational approaches to find novel targets for immuno-oncology therapies. They also bring these therapies to the clinic. A very interesting company. The stock is up 160% YTD. HOT

Personalis - This company sequences the tumours of cancer patients in order to track the disease and recommend the most effective therapies. Personalis also aims to develop a liquid biopsy technology — all the rage right now. The stock recently popped 30% in the last two days and is up 165% YTD. VERY HOT

Seres Therapeutics - This company translates gut microbiome research to develop bacteria-based therapies for gastrointestinal-related diseases. They currently have clinical trials for C.difficile infection and ulcerative colitis. Positive Phase 3 trial data for the former sent the stock up 7x since August this year. VERY HOT.

Caredx - This company focuses on intelligent products to help both organ transplant donors and recipients. They have a host of products ranging from diagnostic tests for organ compatibility, electronic records software, and transplant surveillance. The stock is up 103% YTD. NOT

Teladoc - Telehealth company. Got a major boost from covid-19. Stock is up 161% YTD. Seems like a fine company but I'm not interested in health tech.

Iovance Biotherapeutics - They develop Tumour Infiltrating Lymphocytes to treat cancer. These anti-cancer immune cells are extracted from patients and multiplied in special culture in order to enhance their ability to detect tumours. Iovance has a couple of pivotal Phase 2 studies in the clinic. The stock is up only 5% YTD. No comment

Illumina - Gene sequencing technology giant. Recently in the news for reacquiring cancer liquid biopsy spinout, Grail. Down 2% YTD. Meh.

Cellectis - A French CAR-T cancer biopharma company — also mentioned in Jim Mellon's Juvenescenece. They engineer off-the-shelf T cells to express certain antigen receptors in order to detect cancer cells. FDA halted their Phase 1 trial in September due to a patient death (cytokine release syndrome). Stock is up 3% YTD but down 50% since 2015. No comment

Pure Storage - This is a "shovels" play in the genomics gold rush. This company develops their own all-flash storage for data centres and flash storage software. Genomics is data intensive so this general compute play makes sense to some degree. The stock is down 40% from its high in 2018 and down 4% YTD. Not hot.

Fate Therapeutics. Develops technology to engineer induced pluripotent stem cells ex-vivo to make different types of immune cells in order to treat cancer. The stock is up nearly 600% since 2018 and up 123% YTD. HOT

Editas - Co-founded by the legendary George Church, this company develops CRISPR gene editing technology to treat genetic diseases. They are pursuing both in-vivo gene editing and ex-vivo engineered cells. They currently have an early stage clinical trial for Leber Congenital Amaurosis, a genetic disease that causes blindness in the young. The stock is down 16% from its highs in 2018 and up 6% YTD. George Church is so HOT right now.

Exact Sciences - A molecular cancer diagnostics company. A competitor to Grail and Guardant Health. The stock surged two weeks ago on early success of its liquid cancer biopsy that showed an overall sensitivity of 86% and a specificity of 95% across 6 different cancer types in 427 samples. HOT

Veracyte - Another molecular cancer diagnostic company. They use whole genomic and transcriptome sequencing of tissue to diagnose cancer and other diseases. Their lead products identify or classify lung cancer, thyroid cancer, breast cancer, and idiopathic pulmonary fibrosis. The stock is up 174% from when it started trading in 2014 and up 37% YTD. HOT

Incyte - Develops drugs and monoclonal antibodies to treat cancer, auto-immune disease, and inflammation. Fairly old company (1991). This stock seems out of place in this fund — nothing particularly exciting about it. Stock is down 40% from its highs in 2017 and 5% YTD. Not hot.

Cerus Corp - Develops their INTERCEPT technology that ensures safety of blood transfusions by inactivating pathogens and white blood cells. It works by using a photoactive drug that permanently locks nucleic acid base pairs together when exposed to UV light, which prevents viruses and bacteria from replicating. The stock is up 54% YTD. No comment

Intellia Therapeutics - Another CRISPR gene editing therapeutics company. They do both in-vivo and ex-vivo therapies and have an early clinical trial for Sickle Cell Anemia. The stock saw some nice gains today as the Nobel Prize for Chemistry was awarded to the discovers of CRISPR. The stock is down 32% from its highs in 2018 but up 63% YTD. VERY HOT.

Adaptive Biotechnologies - Immune system sequencing and profiling to find new therapies. They also partner with big pharmas to bring drugs to trial. Major focus on T cell receptor antigens. The stock is up 71% YTD, IPO'd in 2019. This one is on my watchlist. Another similar company, Immunome, IPO'd recently. HOT.

Syros Pharmaceuticals - Uses a small molecule drug approach to activate regulatory genes in order to treat diseases. (98% of human DNA is non-coding!) They have a few clinical trials, mostly focussing on cancer. The stock is down 55% from its highs and up 40% YTD. HOT

10x Genomics - They develop single cell -omics (transcriptome, epigenome, genome) for biological research. Single cell -omics technology seems like it will be important in epigenetic aging research. Stock is up 176% from when it started trading in September last year. HOT

Vertex Pharmaceutical. Mostly known for expensive cystic fibrosis drugs. Also has some partnerships with CRISPR Therapeutics. I'd rather just own CRSP. Not hot.

Nanostring Technologies. Develops cancer diagnostic tools. Combines molecular barcoding + microscopic imaging to directly detect RNA transcripts. The stock is up 420% from when it went public in 2013 and up 50% YTD. Hot.

Schrodinger - A physics-based computational chemistry drug discovery company. They offer their technology as a service / platform and also use it to develop their own clinical pipeline. They claim to evaluate billions of molecules every week. I've written about this stock in this newsletter before. Great name (+1 for umlauts) and a very hot IPO that crashed 50% from its hyped highs. Stock is up 88% from when it started trading last year and but down 42% from its highs in July. HOT

Guardant Health - Another molecular diagnostic and liquid biopsy company similar to Personalis, Exact Sciences, and Grail. They specialize in cancer treatment selection, recurrence detection, and cancer diagnostics. The stock is up 231% from when it started trading in 2018. It is up 34% YTD. HOT

Accolade - A health tech company that helps employers provide smart health benefits and care to their employees. Not interesting to me. Recently IPO'd in July and up 35% since then. Meh.

Castle Biosciences - They develop prognostic and diagnostic tests for various skin cancers. Stock up 152% from when it started trading in August 2019. HOT

Takeda Pharmaceuticals - The biggest pharma company in Asia. They have a diversified portfolio of therapeutics like any other mega pharma giant. A curious choice. Perhaps it was their work in stem cell therapies (Takeda acquired TiGenix) that got them into ARKG. Not hot.

Ionis Pharmaceuticals - They develop drugs that target specific mRNA sequences in human cells that code for disease causing proteins. They have a massive clinical trial pipeline that includes treatments for cancer, Alzheimer's, high LDL, Hepatitis B, Nash, ALS, etc. Interesting….

Xilinx - Semiconductor company. They specialize in FPGAs and SoCs. Not directly related to biotech — more of a base layer tool play like Pure Storage. Seems like an unnecessary addition to the fund. Not hot. (Edit: Shortly after I wrote this the stock popped 15% as it was revealed AMD was in talks to acquire the company. Oops. I still prefer to not go down too far the tools of tools idea.)

Phreesia - Patient intake software. Might very well be a great business but…Meh.

Codexis - Manufacturer of proteins and enzymes. Not a clinical company — they help biopharma companies produce their molecules. A decent "shovels" play. The stock is down 42% from its highs in 2019. No comment

Evogene - An Israeli computational biology company that focuses on drug discovery and development. It's down 80% from its highs in 2014, though. Not a great sign. Not hot.

Pluristem Therapeutics - An Israeli company that specializes in using placental stem cells to treat diseases. The stock is down 90% from its highs in 2007. Not hot.

Aquabounty Technologies - By far the weirdest company in the list. They genetically engineer fast growing Atlantic salmon to be farmed in land-based pools. In their FAQ, they state their salmon cannot escape and breed with wild populations because the Aquabounty salmon are "all female and sterile". Essentially the plot of Jurassic Park but with more fish and fewer severed arms. Weird. Not hot.

This is a cash holding essentially.

Beam Therapeutics - Develops single DNA base editing CRISPR technology to treat genetic diseases. Their targeted base editing and "prime editing" approach avoids some of the complications associated with traditional CRISPR (double DNA strand breaks, DNA sequence insertions / removals, etc). This company was spun out of research at MIT and Harvard in 2017. The landmark prime editing Nature paper (which demonstrates the technology) was only published last year. Their most developed pipeline targets sickle cell anemia and beta thalassemia. The stock IPO'd in February this year and is up 52% since then. I really like this company. HOT!

Berkley Lights -Develops an optofluidic technology for screening cells and workflow arrays — another "shovels" play. It is up 70% from when the stock IPO'd in July. I like it — though it looks like there could be a small pull back later this week. HOT!

Surface Oncology - Develops antibody immunotherapies for cancer. No comment.

Organovo - 3D bioprinting of human tissues. This was a spinout from SENS Research Foundation. I have also listed this stock on Longevity Marketcap. Unfortunately the stock is down ~ 96% from its highs in 2014 and recently had to do a reverse stock split. Not hot.

Cellular Biomedicine Group - Develops CAR-T immuo-oncology therapies and regenerative stem cell therapies. They are running several clinical trials in China so it appears that is their target market. The stock is down ~60% from its highs in 2015. No comment.
Verdict: Winner!
I like the majority of Ark Invest's Genomics Revolution ETF (ARKG) holdings and I have a small allocation to the fund. ARKG contains many solid biotech, bio + tech, and biotech tools ("shovels") companies.
There are a few picks that are bewildering: Aquabounty, Xilinx, Pure Storage. I'm also not interested in the health tech stocks (Accolade, Teladoc, Phreesia).
Do I think the fund warrants its 0.75% management fee?
It depends. If your position size is relatively small or you don't on plan on holding for long term then the relatively high fee will make little difference on your absolute returns. It's probably worth the convenience — even if you do end up owning a slice of a mutant salmon company.
I do think that checking in periodically on the ARKG holdings for new additions or deletions and listening to the Ark Invest Webinar is a great way to learn more about what is hot in biotech.
Going forward I'm personally just going to invest in the single stocks that I like in the fund. This will let me tactically enter and exit when I see major warning signs on the technical side.
-NATHAN CHENG