Discover more from Longevity Marketcap Newsletter
Investing in the Longevity Biotechnology Revolution. By Nathan Cheng + Longevity List.
Over 4,000 subscribers
#009: What a VC Wants, What a VC Needs. VC Roundtable ARDD 2020.
There Will Be Young Blood: Grifols x Alkahest. Defeatists need not apply. Technical Analysis.
In this edition of Longevity Marketcap Telemetry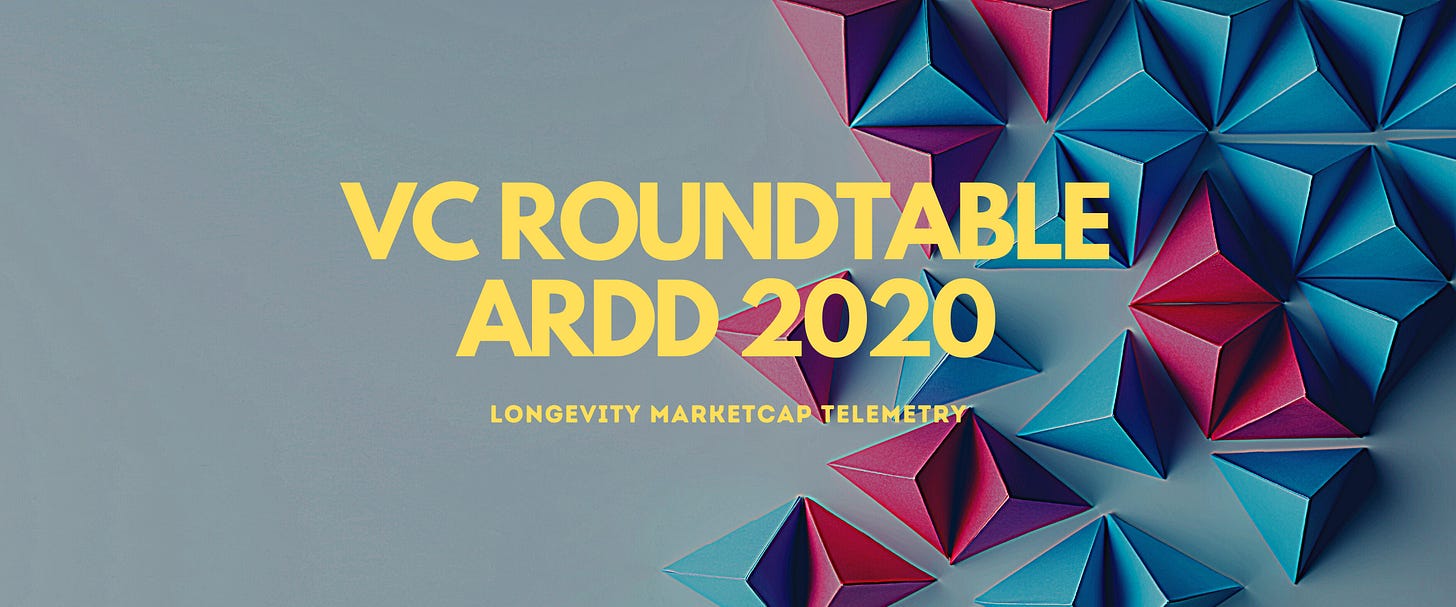 Notable Last Week

Longevity Futures

There will be Young Blood: Grifols x Alkahest

VC Round Table from ARDD 2020

Defeatists need not apply.

Technical Analysis
*This information should not be taken as financial advice. It is for education purposes only.
*Warning! Investing in biotech is risky!
-Nathan Cheng // LongevityMarketcap.com // LongevityList.com
---
Notable Last Week
Investing
Trading
XBI Biotech Sector ETF mostly flat for the week. Nasdaq down 4.6%, S&P500 down 2.5%. Biotech stocks didn't receive the same beatdown as the Nasdaq mainly because biotech was already trending down for the past 7 weeks.
---
Longevity Futures
Investing
Master Investor Webinar Q&A with Jim Mellon - Monday September 14th, 1:00 PM London time. Billionaire and co-founder of Juvenescence holds an online webinar every month or so. Free to join and you can email questions in advance!

Longevity Investors Conference. October 1st, 2020. 12:05 PM CET. First two talks are free. The rest of the day is paid ($395). Lots of great speakers: Jim Mellon, Aubrey de Grey, David Sinclair, Nir Barzilai, Dr. Joon Yun, Eric Verdin, and many more. Register in advance

Eurosymposium for Healthy Ageing. October 1 - 3, 2020. Free, but register in advance. Research focussed conference. Speakers include: Aubrey de Grey, Alex Zhavoronkov, Josh Mitteldorf, Irina Conboy, Greg Fahy, Nir Barzilai, and more.
Trading
Stocks due for a short term bounce. Nasdaq stocks took a massive beating last week. But nothing goes down in a straight line. Momentum indicators are pointing to a potential short term bounce this coming week. A perfect day trade for me might come on Wednesday. See Technical Analysis.

For those about to buy the biotech dip, we salute you. If you believe that the pullback in the market will be short-lived there are a number of interesting beaten down biotech stocks that could be a good buy. On my list include: Schrodinger (SDGR) and Twist Biosciences (TWST).
---
There Will be Young Blood: Grifols buys Alkahest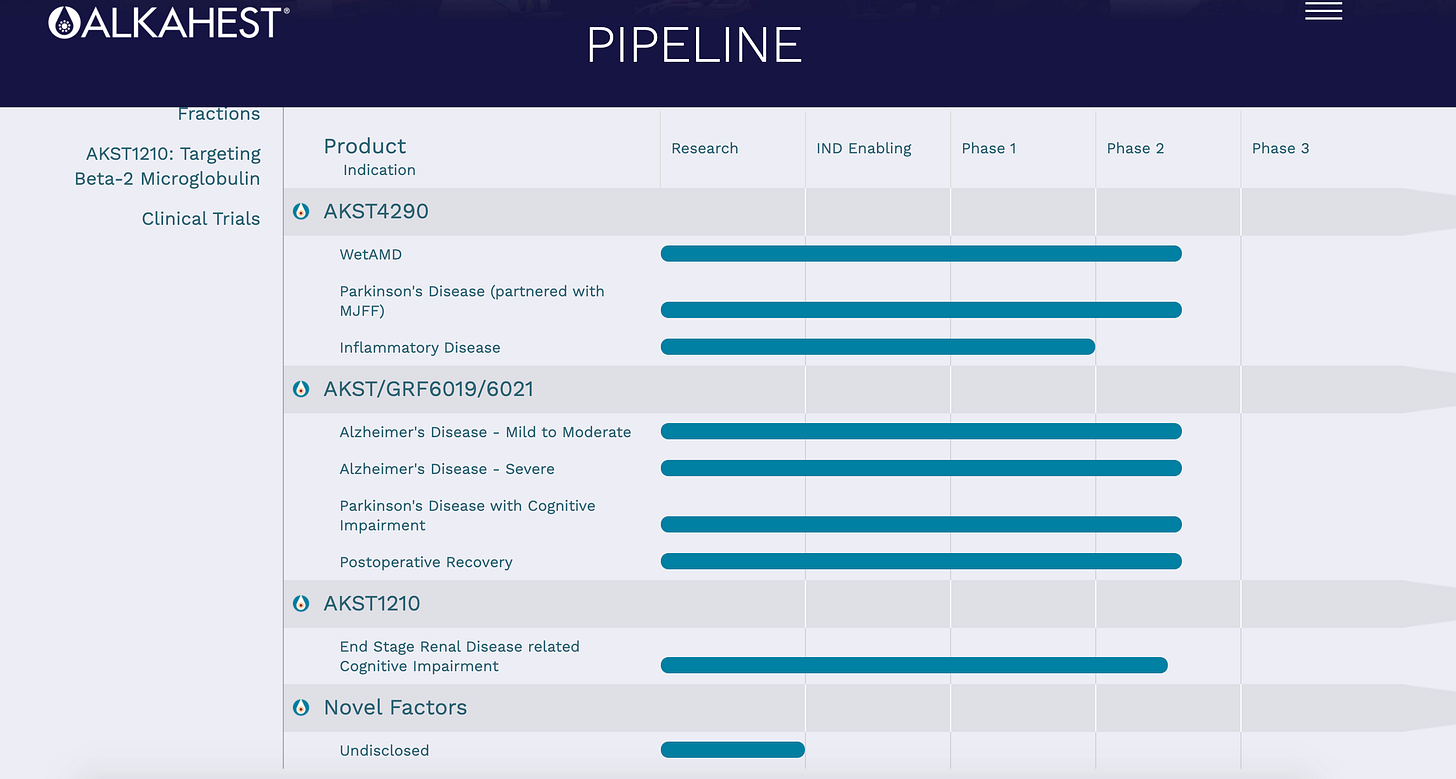 Grifols announced last week that they had agreed to acquire the remaining 55% stake of young blood factors biotech Alkahest for $146 million dollars. Alkahest will now be fully owned by Grifols.
Let's take a closer look at the companies, the deal, and whether Grifols is now an investible longevity play.
What is Grifols (GRF, GRFS)?
Grifols is a $16 billion dollar multinational blood biologics / biosupply company headquartered in Spain. It is a major global supplier of blood factors like immunoglobin, albumin, and factor VIII.
The company's 2019 revenue was over $5 billion dollars and they have nearly 1 billion EUR in cash. And while most of their revenue comes from the production and sale of blood factors, they also develop clinical therapeutics such as their AMBAR trial to treat Alzheimer's disease.
Overall, Grifols is a solid "blue chip" industrial-esque pharma company with smatterings of clinical gambles — which also includes Alkahest.
What is Alkahest?
Alkahest is a clinical stage biopharmaceutical company that is developing therapies to treat neurodegenerative and age-related diseases by targeting the aging plasma proteome.
The company was founded in 2014 by Stanford researcher Tony Wyss-Coray, who discovered that circulatory blood factors from young mice could rejuvenate the brains of old mice.
Currently, Alkahest's anti-aging therapy clinical pipeline includes two products: AKST4290 and AKST/GRF6019/6021
AKST4290 is an orally administered small molecule drug that blocks the receptor for eotaxin, a circulatory factor that increases with age and that is linked to many age-related diseases. The therapy is currently in Phase 2 trials for treating wet age-related macular degeneration and also Parkinson's disease.
AKST/GRF6019/6021 is a proprietary plasma fraction developed in conjunction with Grifols that is in Phase 2 clinical trials to treat Alzheimer's disease and Parkinson's disease.
Alkahest's platform for characterizing and mapping the aging plasma proteome has so far identified over 8,000 relevant proteins. This means they probably have a large portfolio of other leading candidates if their first clinical trials fail.
Is Grifols a longevity stock worth buying?
The Alkahest buyout valued the company at roughly $265 million dollars or about 1.6% the market capitalization of Grifols — a very small fraction. So if you bought shares in Grifols today you would mostly get a slice of their albumin (et al) business.
But this is not necessarily a dealbreaker. You would still be investing in Alkahest. And that part of the business has potential to grow exponentially.
If Alkahest's clinical trials prove very successful then Grifols might turn into a full fledged longevity company overnight.
It's definitely not impossible for an acquisition to outgrow the parent company.
In 2005, Yahoo bought 40% of a Chinese company called Alibaba for $1 billion dollars — or roughly 1.7% of Yahoo's market cap at the time. Today that same Alibaba stake would be worth almost $300 billion. In contrast, Yahoo's core business was sold to Verizon in 2016 for just under $5 billion.
Verdict: I like Grifols and will now add it to my portfolio. Grifols is a solid multi-billion dollar blue chip biomedical / pharma company. The acquisition of Alkahest is a great strategic gamble for them and holds a lot of upside potential. Grifols also currently has a dividend yield of ~1%, if you are into that kind of thing.
---
VC Roundtable from ARDD 2020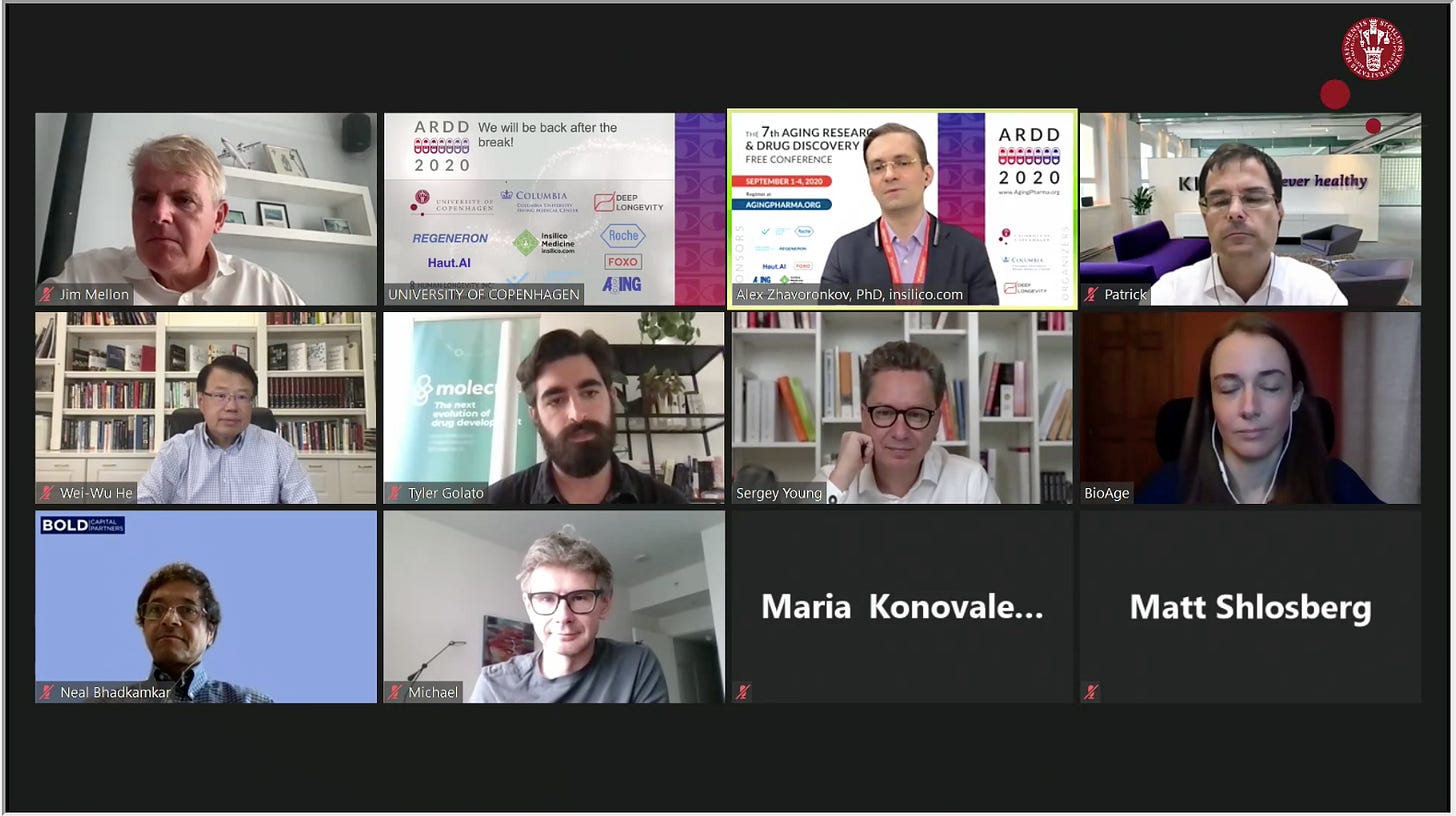 Aging Research and Drug Discovery 2020 took place online two weeks ago. Here are my notes and thoughts on the VC Roundtable discussion.
Jim Mellon, billionaire and co-founder of Juvenescence
Juvenescence is a drug discovery company that invests in and partners with a wide range of longevity companies.
Silicon Valley billionaires are starting worry about their own longevity. Nothing like pressing on the existential nerve of the rich to jumpstart investments in longevity. Of the 200 billionaires on Forbe's list less than ten are under 40 years of age.

We don't what will work. But we know something will. Jim Mellon believes that a breakthrough in longevity is inevitable.

Longevity biotechnology has what Josh Wolfe might call a "directional arrow of progress". Kevin Kelly compares these kinds of technological trajectories to water running down a mountain side — you cannot predict each twist and turn but the destination is clear.

Medical technology has always been about maintaining function for as long as possible. Longevity is just the logical continuation of what prehistoric humans started when they stumbled on medicinal plants and healing clays 5000+ years ago.

Most exciting companies in longevity: Mellon is excited about LyGenesis, Insilico Medicine, Deep Longevity, and Relation Therapeutics (recently partnered with Juvenescence and received a grant from the Gates foundation to use AI to find Covid-19 drugs).

Practical approach to longevity investing. Juvenescence does not invest in science projects — there needs to be a clear path to a product.

Money will make the difference. Investors will peter out if they don't see returns fairly quickly.

Try, try, and try again. There will be failures so being diversified is important. Juvenescence wants to fund as many projects to Phase 2 "light switch moments" as possible. They have 20 projects and 8 INDs (investigational new drug applications).
Wei-Wu He, Executive Chairman Human Longevity Inc.
Human Longevity Inc is a cutting edge medical screening service company founded by Craig Venter.
Be open-minded for the unanticipated. When Bristol Myers Squib bought Medarex they did not assign any value to its PD-1 inhibitor, nivolumab (Opdivo). Now it is a very successful and profitable treatment for many different cancers, with projected ~ $8 billion USD in sales in 2020.

In early stage investing, the entrepreneur makes the biggest difference.

Personal longevity regimen: Glucose monitor, 2 cups of coffee per day.
Patrick Burgermeister, Kizoo Technology Capital
Kizoo Technology Capital was started by German tech entrepreneur and founder of Forever Healthy, Michael Greve. The firm has a significant focus on investing in longevity biotechnology.
Startups and VCs are newbies. Longevity biotech often unites inexperienced teams (no drug development experience) with VCs that don't have experience investing in biotech.

Thorough due diligence. If you don't have the expertise, hire or contract it.

Bet on teams that have experience.

Most excited about: David Sinclair's work in epigenetic reprogramming. Life Biosciences work in cellular therapy, pan cancer therapy, cells from healthy donors that transfer part of the immune system to patients. Young blood / plasma therapies.
Kristen Fortney, co-founder of BioAge Labs
BioAge Labs is a machine learning / AI drug discovery startup that leverages biomarkers of aging to find drugs that can modulate biological aging.
resTORbio and Unity Technology failures: Science is hard. Mechanisms of aging are broader than cancer so we should expect just as many of failures, if not more. One program or mechanism failure doesn't have any bearing on any other. But it is important for the field to get its first success.

Make sure trial readouts are close together. I'm guessing this important from a business operations standpoint.

Having a portfolio of targets is important. Even single companies need to diversify their own bets.

BioAge is investigating the hypoxia pathway and prostaglandin pathway for aging.

Covid-19 has accelerated interest in immunosenescence. BioAge is also currently working on a Phase 2, Covid / immune aging trial. Many longevity companies are also trying to get their foot in the FDA door this way.

Most excited for: Companies that are in the clinic, testing on humans. Also, aging biomarkers.
Neal Bhadkamkar, General Partner at BOLD Capital Partners
BOLD Capital Partners is a VC firm that invests in founders leveraging exponential technologies. Their portfolio includes Elevian, Fountain Therapeutics, Insilico Medicine, Deep Longevity, Open Water, Oura, and Viome.
Focus on Seed Stage and Series A. Mostly invests at the intersection of deep tech and big impact. Half of BOLD's investments are in healthcare / biotech — 14% in longevity. Invest where there are specific pathways that have a history of validated research.

Most excited for: Companies that are creating new tools like aging biomarkers (Deep Longevity) or tissue models (Inviva).

Also excited for: Companies that take anti-aging biotech and applying them to pets (Celevity, Rejuvenate Bio). Thinks success here will accelerate the field.

Tips for investing in longevity companies: Pass on your first 15 startups before pulling the trigger.

Personal longevity regimen: Avoid stress, overeating, and bad food.
Michael Antonov, angel investor, Oculus cofounder
How he invests: Impact is important. Invests in a mix of more established companies (Series A and B) and higher risk big impact seed stage companies in novel areas. Essentially a barbell strategy (invest in high risk and low risk, no middle).

Synergies: Looks for combinations or couplings to other technologies (like AI, robotics, etc)

Due diligence is important.

Most excited for: AI and robotics to automate testing. Tissue chips and organoids. Ways to make clinical trials faster or predict trial success. Epigenetic reprogramming and Turn Bio.

Personal longevity regimen: Intermittent fasting.
Sergey Young, Longevity Vision Fund
Longevity Vision Fund is a $100M investment fund dedicated to making longevity affordable and accessible to all. The fund accelerates longevity breakthroughs by investing in companies that develop technologies, products, and services that extend healthy human lifespans and overcome the negative effects of aging
"We try to diversify to the maximum amount." Longevity Vision Fund is looking to invest in 30 - 40 different projects. Ideally looking for projects that combine both biological and technological aspects.

"Feels like 1998, the dial-up era of the Internet age".
---
Defeatists need not apply.
Sometime last year I was chatting with a young biology post-grad about commercial DNA tests. He told me he didn't want to get tested because he would rather not know if he was at high genetic risk for developing a terrible incurable disease.
This struck me as an incredibly defeatist attitude.
Every curable disease was at one point incurable. If you discover you are at high risk for Parkinson's disease today you could immediately start donating to research foundations or investing in therapeutics companies. Perhaps start a career in the field. Your actions today could increase the chances that there would be a cure in the future.
I feel the same way about aging.
We all know we have it. And some days it feels like a death sentence. But I simply cannot give in to the defeatist attitude. There is plenty of time and plenty of "theta" left on this call option on longevity escape velocity. (When moon?)
And the best part is you have a say in your own fate. You can influence the future with your actions.
If you are reading this newsletter it means that you are part of a select minority of people who know a secret truth: That it will be possible to end biological aging.
So maybe do something about it.
-NATHAN CHENG
---
Technical Analysis
This is the section of the newsletter where we analyze the charts to see what may lie in the short term future based mostly on momentum indicators.
Nasdaq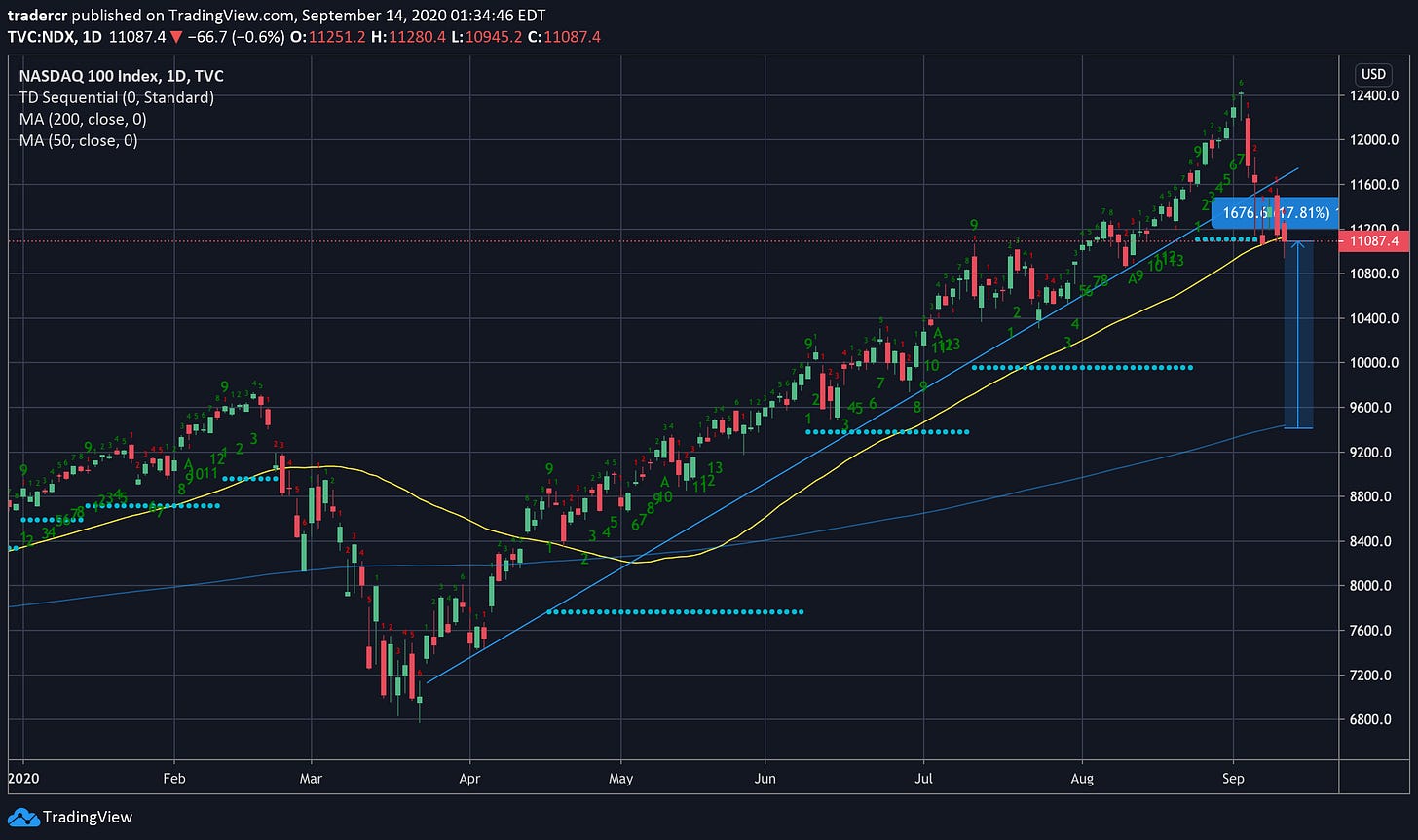 The carnage in the Nasdaq and SP500 continued last week. The Nasdaq is currently 10% off its highs but still 18% above the 200 day SMA. The 50-day SMA was broken on Friday.
But nothing goes down in a straight line. TD sequential is currently on day 6 of a downtrend. If we reach a TD sequential 9 Sell on Wednesday without a bounce, I may consider buying for a one or two day hold at end of day. I am looking for stocks that have been disproportionately battered like:
FSLY, -34%

AAPL, -20%,

TSLA, -25%,

TWST, -15% (Silicon-based synthetic DNA company)

OSTK, -47%

SDGR, -44% (This is an interesting computational chemistry company that also does drug discovery. IPO'd less than a year ago so maybe still too hot to hold long term)
Longterm, I have no opinion on the market. Gun to my head, I am bearish but I haven't bought puts so that tells you everything you need to know about my conviction.
Grifols (GRF, GRFS)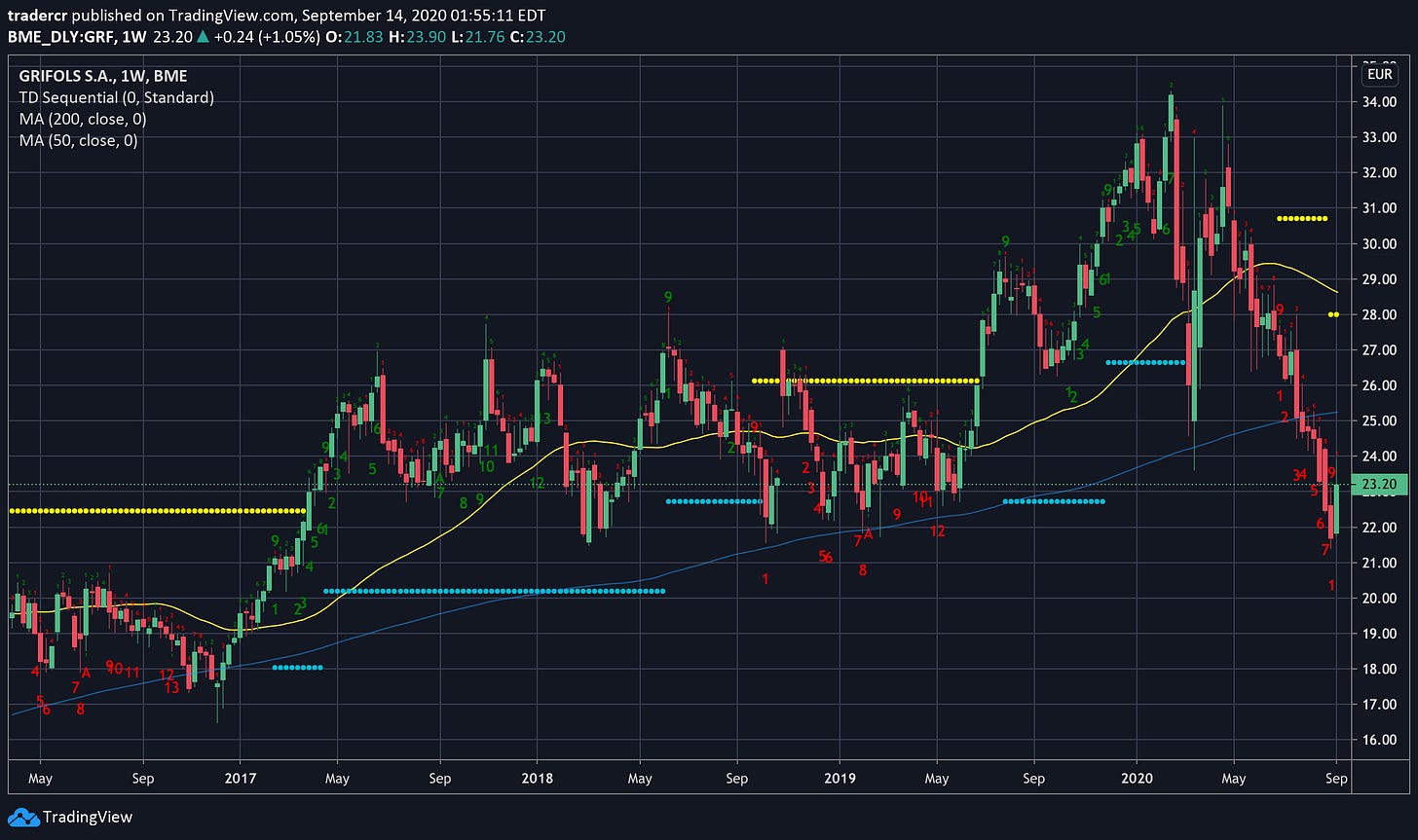 Now that Grifols has fully acquired young plasma factors biotech Alkahest, I am very interested in investing.
If we look at the weekly chart (BME, Spain) we can see we just missed a beautiful TD 9 Weekly Buy indicator beginning of last week. The stock ended up 7% for the week in EUR but only up 2.8% when looking at the Nasdaq listed shares (GRFS) in USD.
However, the stock is down a whopping 32% from its pre-Covid highs. This really goes to show how much disconnect there is in the recovery of stocks in the US compared to stocks in Spain. (Check out the IBEX 35 Index — it looks horrendous. All of Europe looks bad). This despite the fact that Grifols derives its revenues globally.
Right now GRF is on its 7 straight month of downward decline. If it hits a TD 9 Monthly I will certainly be interested in adding more to my position.