Discover more from Longevity Marketcap Newsletter
Investing in the Longevity Biotechnology Revolution. By Nathan Cheng + Longevity List.
Over 4,000 subscribers
#005: Requiem for a UBX0101 Dream
Unity Biotechnology Phase 2 failure. The Longevity Industry: Past, Present, Future. Mesoblast x FDA. Technical Analysis.
In this Edition of Longevity Marketcap Telemetry
What happened last week?

What to look for in the next week(s)?

Requiem for UBX 0101: What does this mean going forward for the longevity industry?

The Past, Present and Future of the Longevity Industry according to Laura Deming. A 10,000 foot view of longevity biotechnology.

Technical Analysis
*None of this information should be taken as financial advice. It is for education purposes only.
**I have positions in Unity Biotechnology (UBX), Mesoblast (MESO, MSB), and AgeX Therapeutics (AGE)
WARNING: Investing in biotechnology is risky!
---
What happened last week?
Investing
Trading
Biotech market down (XBI) 3.6% . The NASDAQ was mostly flat for the week.

Mesoblast -30% , +50% rollercoaster. I was too preoccupied to make sense of the news developments in Mesoblast last week. When it crashed there was a snapback at the end of the day. Not like Unity…..

Unity Biotechnology (UBX). It crashed -66% but there was no overshoot. Just a thud. Hard to say what will happen next.
---
What to look for in the next week(s)?
Investing
Mesoblast (MESO) will announce analysis of interim data for its Phase 3 trial for Covid-19 ARDS in early September.

FDA will decide on whether to approve Mesoblast's Ryoncil for treatment of pediatric steroid refractory Graft vs Host Disease on September 30.

Events
Trading
Unity Biotechnology (UBX) has crashed. The market has repriced the company by -66%. They are slated to start clinical trials for a new senolytic targeting eye diseases later this year. They also claim to have enough cash to get to 2022.

Mesoblast (MESO) momentum. Clearing the FDA Oncology committee was big. Stock has strong momentum. Is a correction in the cards? See Technical Analysis.

AgeX (AGE) still riding close to trend line. Will it breakdown or break out? See Technical Analysis.
---
Requiem for a UBX0101 Dream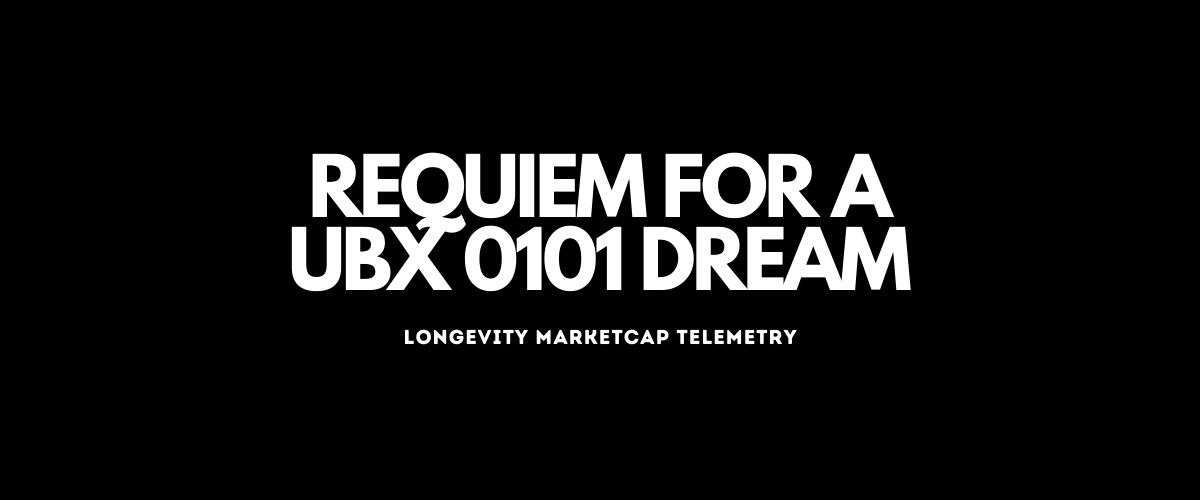 Today was a dark day.
Unity Biotechnology, the most promising public anti-aging drug company announced that the Phase 2 trial for its osteoarthritis senescent-cell-killing drug failed to meet its endpoint versus placebo. Development of the UBX0101 pipeline is now discontinued.
Investors dumped the stock with a deafening thud. Not even the hope of a dead cat bounce at the close.
I felt a little sick to my stomach.
Not so much for the financial hit to my portfolio. But instead for the future of the industry.
Will this scare off future investors? Will this slow down progress in longevity biotechnology? Will there be enough time to save those I care about?
Maybe you share the same anxieties. Take a deep breath.
It's going to be okay. These failures are the norm, not the exception. According to a 2018 MIT study in Biostatistics, the approval rate of drugs that enter clinical trials is somewhere between 9 - 14 %.
That means roughly 90% of clinical drugs will fail. Failure is the most likely outcome.
Don't be discouraged by this one high profile failure —there will be many more. Like a horde of baby turtles racing to the sea under fire of hungry herons, it's a numbers game. A cruel game it may be but the payoff of life extension (and possibly profits) will be more than worth it.
I am not deterred. I will continue to invest and evangelize. Never forget that we are undertaking the most important mission in the history of mankind.
And we will never give up.
Post-mortem UBX0101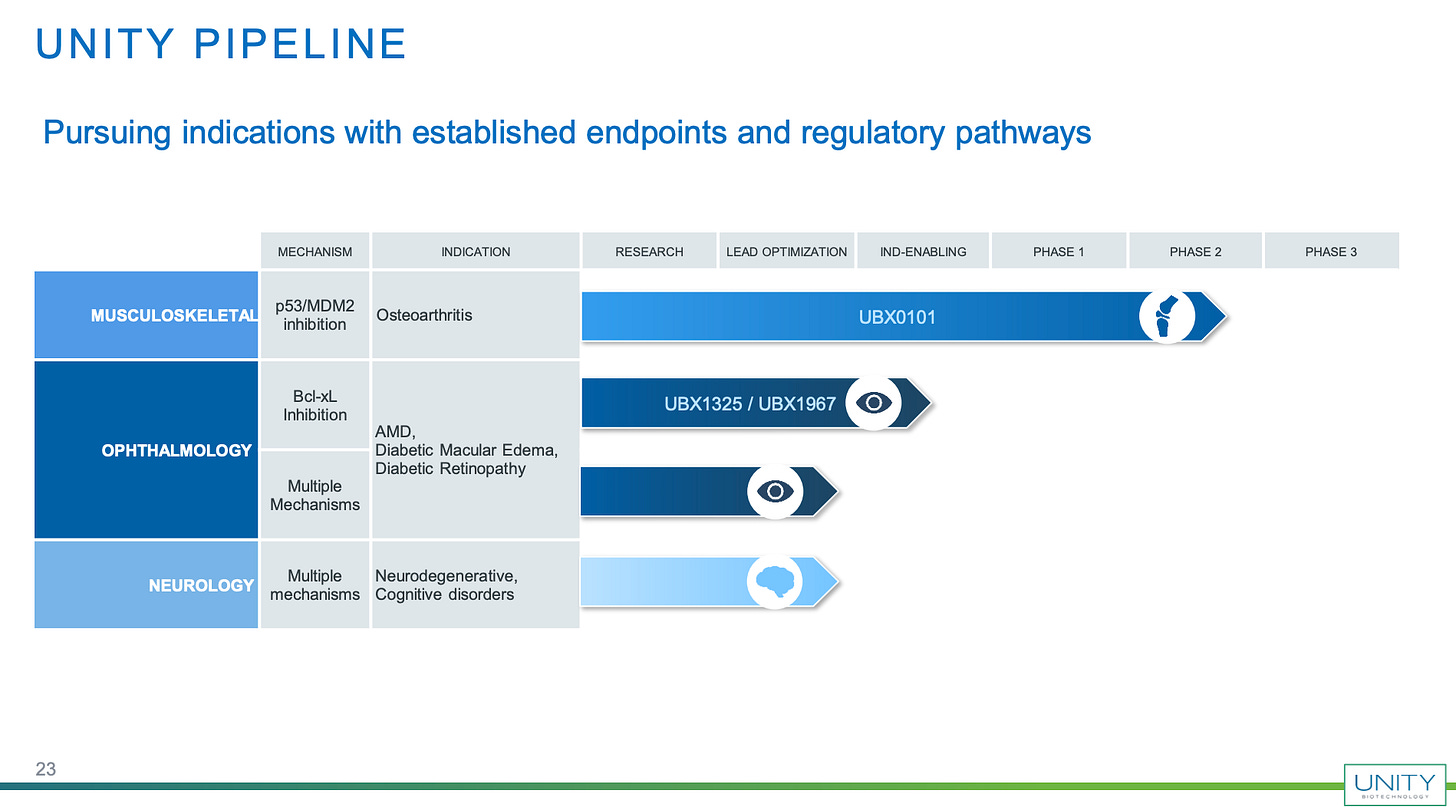 So where does Unity Biotechnology go from here?
The good news is they will continue to develop senolytic anti-aging drugs and have ample cash to take another shot (or two) on goal.
According to their conference call this morning and presentation slides, the company will shift their capital and focus to UBX1325, a senolytic drug that has a different senescent cell target associated with diseases of the eye. Unity also has a senolytic pipeline in the works for neurodegenerative diseases.
Here are the main takeaways from the call:
The Phase II UBX0101 osteoarthritis of the knee data showed no significant separation between the placebo group vs treated group at 12 weeks. The primary endpoint were patient-reported pain scores.

There will not be a pivotal study for UBX0101 - osteoarthritis of the knee. The program is discontinued for the foreseeable future. RIP.

Capital will be deployed to UBX1325 which inhibits Bcl-xL, a different senescent cell protein.

Bcl-xL is implicated in diseases of the eye including Diabetic Retinopathy, Diabetic Macular Edema, and Age-related Macular Degeneration.

The company has $112 million cash + $80 million of credit (from Hercules Capital) as of June 30, 2020. They already pulled down $25 million of the credit. Two tranches of $15 million each were contingent on UBX0101 data (so likely will not get this money). Last $25 million of the credit is lender's discretion.

They have enough cash runway till 2022.

They plan to start their clinical trial of UBX1325 for eye disease sometime this year with initial clinical data in 2021.

The company is optimistic that their ophthalmology program will have more objective measurements versus the more subjective (patient reported pain score) ones in their failed UBX0101 / osteoarthritis trial.

Unity already has 24-week data from UBX0101, but they don't expect any separation between the groups. They also have data from a small repeat dose study.

Unity thought the Phase I data was compelling (even believing there was a dose response). But Unity saw an unusually large placebo effect in Phase II. They don't believe there was no pharmacological effect — rather they believe that they could not detect one due to the placebo.
The Future of Senolytics
Unity Biotechnology still believes in the senescent cell aging hypothesis. And they are not alone. It's one of the hottest topics in longevity.
There are more than a dozen companies (mostly private) working on senescent cells for example:
There are many different senescent cell targets that can be mined for potential life extension gold. There's also the possibility of developing senomorphics, drugs that target the bad SASP factors secreted by senescent cells instead of removing the cells directly.
I am still optimistic about Unity Biotechnology and senolytics in general. I don't plan on selling my shares. They will get at least one more shot on goal to prove the senescent cell thesis — this time in diseases of the eye. And if they fail, someone else will try a different target or modality.
And again. And again, until we notch a big win for humanity.
---
The Longevity Industry: Past, Present, and Future — according to Laura Deming
In light of today's Unity Biotechnology setback, I would like to share my notes on a talk that Laura Deming (longevity VC wunderkind and founder of The Longevity Fund) gave last November.
In her talk she gives a big picture view of the longevity industry. It's future, present, and past. A history littered with setbacks just like the one we suffered today.
But the industry kept marching on. And today it is stronger and more vibrant than ever before.
So chin up.
1. Setbacks are not new to Longevity.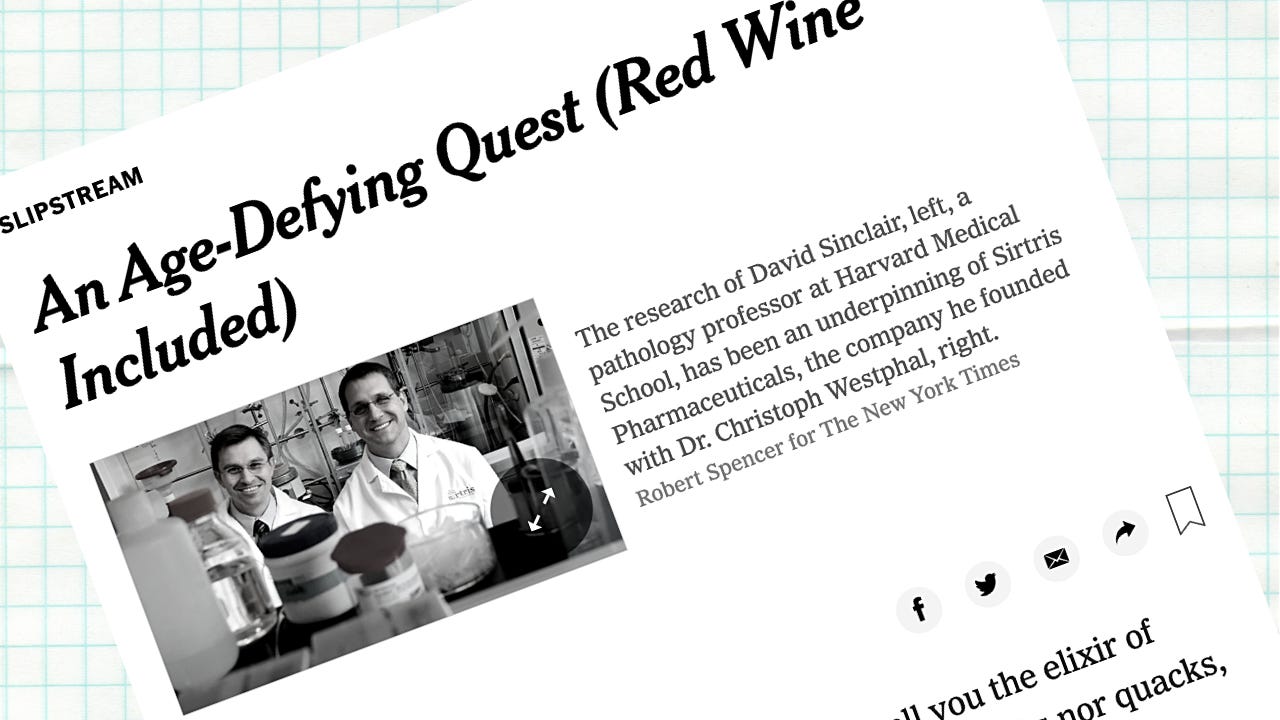 The longevity biotechnology industry started in earnest in the late 90's / early 2000s with three groundbreaking companies:
Geron- a telomerase inhibitor company founded by Mike West (now at AgeX Therapeutics)

Elixir Pharmaceuticals - a DAF-2 target company founded by Cynthia Kenyon and Leonard Guarente. The company failed to bring a product to market.

Sirtris Pharmaceuticals- a sirtuin activator company founded by David Sinclair (Harvard Medical School / Life Biosciences)
The first longevity bubble burst nearly as soon as it came. Sirtris was acquired by GlaxoSmithKline for $725 million dollars — all cash — but the candidate drug was shutdown two years later. Ultimately it was a failure that put a damper on the entire field.
2. "In Biotech Success is a Long Game"
In 1996 ARCH Venture Partners funded Xcyte, a company that engineered T cells to fight cancer.

Xcyte shutdown in 2005.

8 years later ARCH funded a company Juno Therapeutics working on the same T cell idea. Five years later Juno sold for 9 billion dollars — one of the biggest biotech exits ever.

"Many times great ideas are still great ideas decades later. But technical progress allows you to finally capitalize on them."
Just because Unity Biotechnology failed this time doesn't mean the senescent cell hypothesis is dead.
3. Brave Believers Push Progress Forward
In 2013, two giants of biotech jumped into the longevity industry, changing the perception of the field.

Art Levinson, CEO of Genetech (an OG genetic engineering biotech company), joined Google's longevity biotech play, Calico.

Craig J. Venter, one of the pioneers in the human genome sequencing, founded Human Longevity Inc.

These two players didn't change the technical progress of the longevity field but they made the field mainstream, socially acceptable. More people began starting companies in longevity.

In Deming's first year of The Longevity Fund (2011) there were maybe only 10 companies worthy of investment. Now there are over 100 companies a year.

4 billion dollars have entered the field over the last six years.
Faith is infectious. The more you believe in something, the more you can attract others to join your cause.
4. Problems with Longevity Investing Now
Large influx of capital in the space, many mission-driven investors. But this leads to a lack of discipline in the investment structure and financing.

Many people are going after the same 5 genetic pathways / small molecule approach. Need more varieties of approach

Lots of seed stage investing in investing but not enough Series A investing.
5. The Future of Longevity Investing
Investment funding in biotech has 2x- 3x over the last few years.

But number of biotech companies started per year has stayed the same.

The median investment size has stayed the same but the average investment size has increased. Venture funds that start their own biotech companies (like Juvenescence) are concentrating their funds into a small number of bets.

Why aren't more biotech companies being started? Turns out many biology graduate students don't even consider starting their own company. They don't think it's possible or don't understand the business.

We need more biotech incubators. We need more people.
I think there could be a major paradigm shift in young people's perception of biotech startups once there is a major success by a young founder. We need our Facebook moment. We need someone to film "The Social Network", but for biotech.
---
Technical Analysis
Technical analysis can be useful for quantifying momentum and market psychology. It cannot tell you anything about outcomes regarding "light switch" moments like clinical trials or regulatory risk.
Remember: Investing in biotechnology is risky!
Unity Biotechnology (UBX)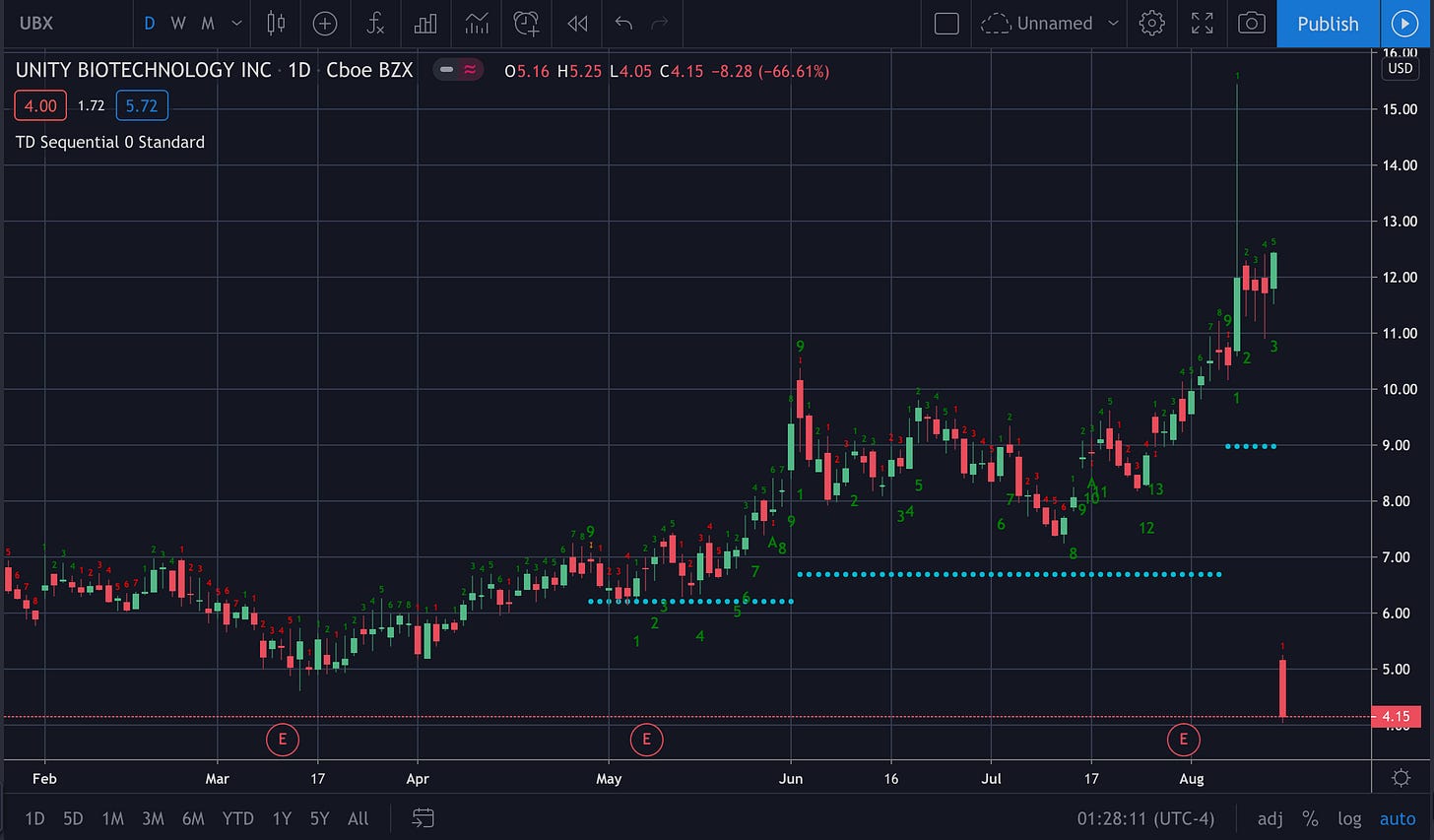 Unity Biotechnology is now at all time lows after reporting a failure of its Ph 2 osteoarthritis trial. The unexplained +40% spike exactly 5 trading days before the announcement smacks of insider trading… except maybe the person didn't know that the trial was a failure. They probably just knew an announcement was imminent.
The 15 minute chart today shows an initial drop followed by a slower grind 20%. No snapback — which is not good.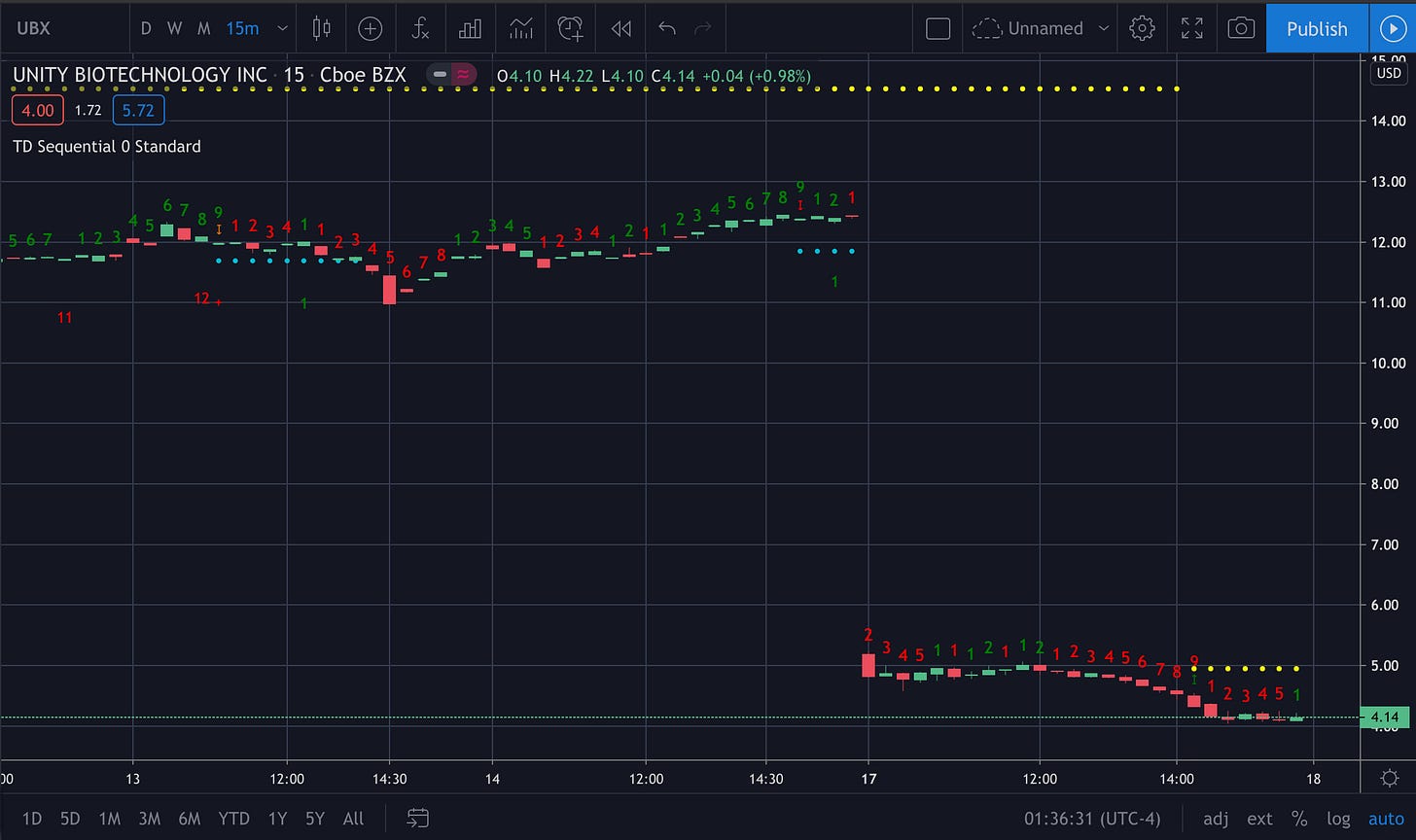 The company is far from dead — the drop was just a flesh wound. They have a decent amount of cash so I expect the price to stabilize over the next week or so before rising in anticipation of their clinical trial for eye disease later this year.
A look at the resTORbio (TORC) chart can give you an idea of how a biotech stock can behave in the weeks after an implosion like this. That stock ended up rising 50% in about 2 months after their big drop. Obviously UBX could end up doing nothing like that. TORC's drop was much deeper ~ -86% after all.

Mesoblast (MESO)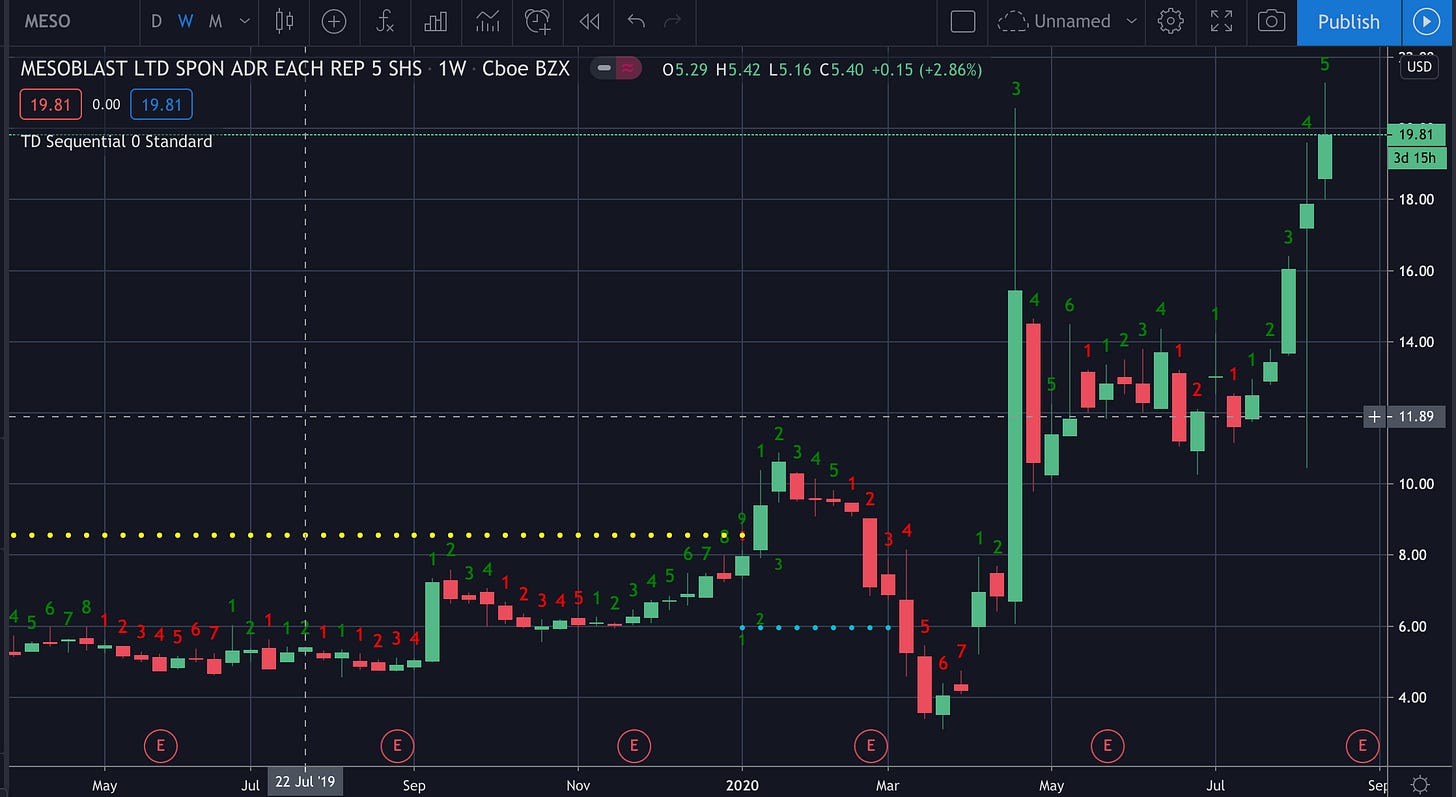 I looked like a moron last week when I wrote about Mesoblast saying I could see no "red flags" in the chart. The stock proceeded to dump 30% the very next day on news that the FDA had raised concerns about the efficacy and manufacturing quality of its Ryoncil treatment. However the stock more than rebounded on a positive 9-1 vote by the FDA Oncology committee later that week.
The price is too disjoint to analyze on a daily scale. But the weekly looks pretty clean but getting closer to a possible technical correction seeing as we have 5 weeks of straightly weekly gains which have doubled the price.
The added risk is we will expect Covid treatment trial data in early September and the Ryoncil FDA approval decision on September 30th. Usually the FDA follows the opinion of the Oncology committee.
I have no comment on either of those outcomes so you are basically flying blind in September. I'm already invested but might consider increasing my position here.
AgeX Therapeutics (AGE)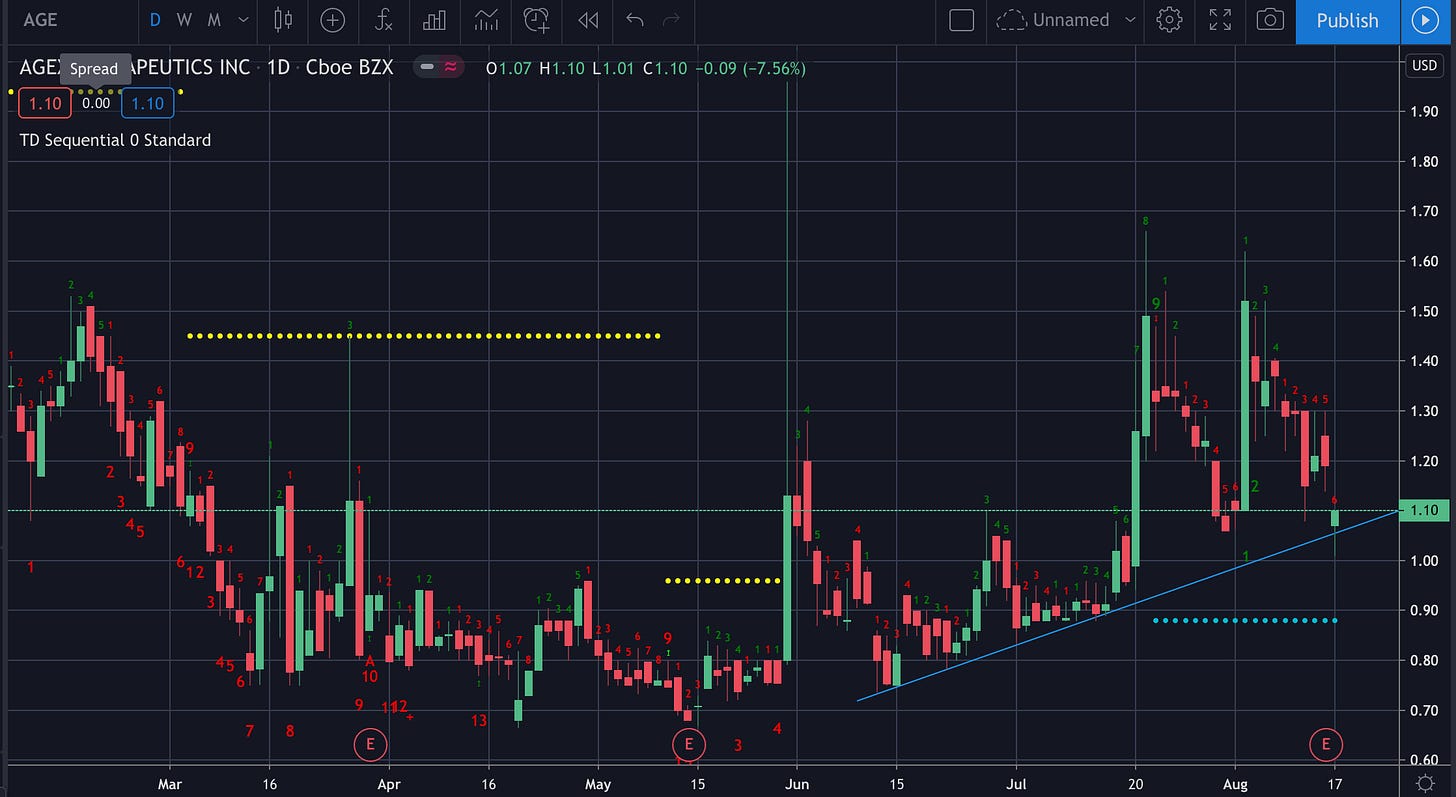 AgeX is getting close to its main trend line again. If it can bounce off it I will consider putting in the rest of my AGE allocation. Perfect entry would be end of this week on TD 9 sequential daily, if possible.